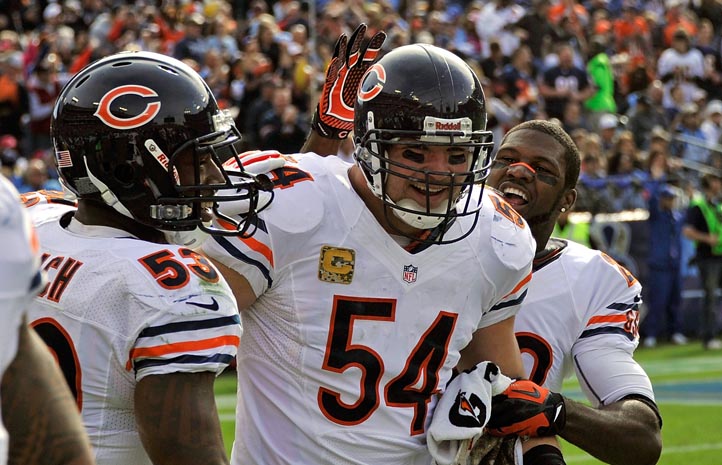 Brian Urlacher was always well-liked by his teammates, and their affection for him showed after he announced his retirement. See what they had to say about him:
Great player... Great teammate... Awesome person!!!! — earl bennett (@Agent_Orange80) May 22, 2013
Gonna miss my man @burlacher54.Congrats bro. Couldn't have asked for better leadership. #preciateyou — Nick Roach (@ricknoach) May 23, 2013
@burlacher54 was the most coachable superstar, best locker room leader I ever played with. Proud to call him a teammate for 8 seasons — Hunter Hillenmeyer (@hthill) May 22, 2013
@burlacher54 congrats on a historical career. It was a pleasure being teammates but more importantly thanks for being a great friend. #HOF — Matt Forte (@MattForte22) May 23, 2013
Urlacher's best game in his career was the overtime game against the Arizona Cardinals, when coach Dennis Green went on a tirade after the game. Years later, the Cardinals offered this sweet tribute.
You were who we thought you were.Congrats.RT @burlacher54: It was an honor to play my entire career for the @chicagobears. — Arizona Cardinals (@AZCardinals) May 22, 2013
The Cardinals weren't the only opponent who paid tribute to Urlacher. Aaron Rodgers faced Urlacher many times in his career, and he said he'll miss he competition.
"But the thing I loved about going against Brian was the conversation between plays, between series, during TV timeouts," Rodgers said on The Jim Rome Show. "I just have a ton of respect for him and wish him nothing but the best. I'll miss him out there."
Copyright FREEL - NBC Local Media