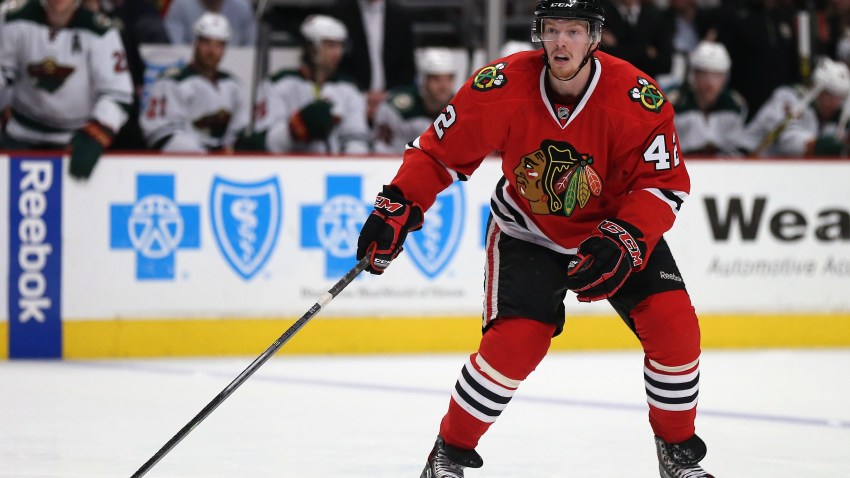 To help prepare our readers for the NHL Entry Draft, scheduled to take place on June 27 and 28 in Philadelphia, Madhouse Enforcer is bringing you a series of posts not only introducing you to the team's prospects, but also to which players could be a good fit for the Chicago Blackhawks in the future.
Today we continue our look at the Top 10 prospects in the Hawks system with our number four prospect, forward Joakim Nordstrom.
The Details:
Nordstrom, a third round pick of the team in the 2010 draft, has already made his debut with the club, but our rule is that we would consider a player a prospect if the NHL still considers them a rookie. Nordstrom was a surprise addition to the Hawks' roster just before the start of the regular season, and he ultimately played in 16 regular season games and seven postseason games for the Hawks. In the regular season he had a goal and two assists, while he was held off the scoresheet in the postseason.
Nordstrom did have more success with the Rockford IceHogs in 58 games of AHL action his season, potting 17 goals and dishing out 16 assists, but his value isn't so much in his scoring as it is in his versatility. Nordstrom can play both the wing and center positions, and that is something that he has worked a lot on during his time in Chicago. That made him an ideal candidate for a role on the team this season, and even though he didn't live up to expectation, he still has a future ahead of him with the team.
Outlook for the Blackhawks:
With a few pieces likely being shuffled around going into next season, Nordstrom is among those players who could potentially make the opening night roster again. Along with Jeremy Morin, Nordstrom could be a third or a fourth line guy on the Blackhawks, depending on what they decide to do with Kris Versteeg, who struggled with the Hawks, or Michal Handzus, who will be an unrestricted free agent on July 1st.