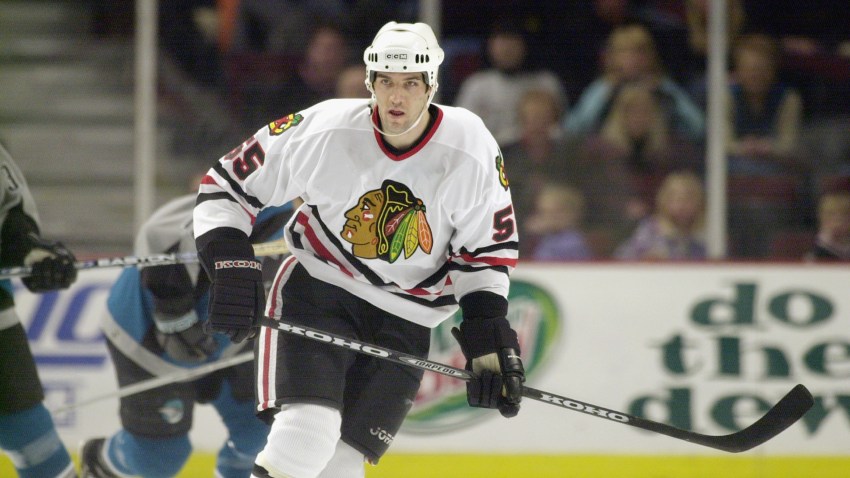 With the NHL Entry Draft looming, Madhouse Enforcer is looking to prepare fans by not only looking at some of the best players that could be available when the Chicago Blackhawks go on the clock, but also at some of the best decisions that the team has made during their history at the draft.
Today we continue our countdown of the Top 10 Blackhawks draft picks of all time, and we crack the top-five with a Hawk that may be considered a let down by some, and that's forward Eric Daze.
The Details:
Drafted in the fourth round of the 1993 NHL Entry Draft, Daze came into the NHL with some really high expectations. In his final two QMJHL seasons with the Beauport Harfangs, Daze scored 113 goals and dished out 93 assists in 123 games, and at 6-foot-6, Daze was looked at as a potential monster in the NHL.
While he's known mostly for the back troubles that plagued him through the end of his career, Daze had a great run for Chicago that included four seasons of scoring 30 or more goals on four different occasions, and scored at least 20 for more in eight straight seasons. Overall he played 601 games in the NHL, all for the Blackhawks, and scored 226 goals and had 172 assists in the process.
Career Highlights:
Daze played his first full season with the Blackhawks in the 1995-96 campaign, and he immediately made an impact for the team. He scored 30 goals that season for the Hawks, and in 10 playoff games he added eight points as a rookie for the team. He wouldn't' crack the 50 point plateau again (although he did continue his streak of 20-goal seasons) until the 2000-01 campaign, when he scored 33 goals and dished out 24 assists for the Hawks.
Daze's best season came in the 2001-02 campaign. Not only did he score career highs in both goals (38) and assists (32), but he also helped lead the Blackhawks back to the playoffs after a four year absence. Add to that the fact that he won All-Star Game MVP honors that season, and it's not a stretch to say that it was his best campaign.
Unfortunately for Daze, he would only play in 64 more games in the NHL before calling it quits in the 2005-06 season. Back problems plagued him through those final years, with herniated discs and a variety of surgeries leading to his downfall. He did score 22 goals in the 2002-03 season, but that was his last gasp as he eventually was forced to retire due to his ailments.
Our Reasoning:
Daze's career was cut short by the myriad of injuries he suffered, but despite only playing 601 games he has to be considered one of the best late-round picks the team made. His offensive skills were truly a sight to see during some really bad times in Blackhawks' history, and even after guys like Jeremy Roenick and Chris Chelios went elsewhere, Daze kept plugging away for some truly atrocious teams.