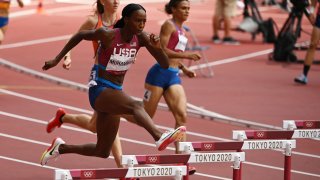 Sydney McLaughlin and Dalilah Muhammad both finish the women's 400m hurdles final faster than world record time - but only one could claim gold.
In a battle that came down to the final steps, McLaughlin beat her own world record to win the highly anticipated race and secure her first Olympic medal.
McLaughlin took nearly half of a second off her previous world record (51.90 seconds) by finishing in 51.46. Muhammad, who won gold at the 2016 Rio Games, earned silver with a time of 51.58.
Femke Bol of the Netherlands came in third at 52.03.
The other American in the final, Anna Cockrell, was disqualified due to a lane violation.
Tokyo Olympics
Watch all the action from the Tokyo Olympics live on NBC
McLaughlin set the previous world record time against Muhammad at the U.S. Olympic Trials in June and also posted a better time than Muhammad in the semifinal round in Tokyo.
The women's 400m hurdles final was similar to the men's final on Monday night. Norway's Karsten Warholm demolished his own world record, winning the race in 45.94 seconds for his first Olympic medal.
Karsten Warholm Has Priceless Reaction to Setting 400m Hurdles World Record
American Rai Benjamin also beat Warholm's previous world record time while taking home silver.