There were another round of podium moments for Team USA in Tokyo.
The U.S., including Indiana divers and the Chicago Sky's Stefanie Dolson, upped their medal counts and made history in some big events. It all comes after a shocking day in Tokyo that saw Simone Biles unexpectedly withdraw from the women's gymnastics team final.
Here are five things you might have missed Tuesday night and Wednesday morning.
Ledecky Wins Gold in 1500 as US Swimmers Earn 4 More Medals
The U.S. swim team picked up four medals for a second straight night on Tuesday, headlined by Katie Ledecky's win in the women's 1500m freestyle. Erica Sullivan secured a silver medal in the same final, while Alex Walsh and Kate Douglass finished second and third respectively in the women's 200m individual medley.
WATCH: Seward, Alaska goes ballistic for Lydia Jacoby's shock win
Ledecky made history as the first-ever women's 1500m freestyle Olympic gold medal winner, finishing in 15:37.34. She now has six career Olympic golds. Sullivan posted a time of 15:41.41 to give Team USA the top two finishers in the 1500m freestyle. Germany's Sarah Köhler (15:42.91) earned the bronze.
US Men's Basketball Team Routs Iran; Kevin Durant on Brink of History
The Dream Team is back!
Well, let's not jump to conclusions based on one game, but the U.S. men's basketball team's 120-66 win over Iran on Wednesday felt like a throwback performance by a team and country accustomed to global domination and lopsided Olympic victories.
It came on the heels of the team's stunning opening loss to France on Sunday, the United States' first since 2004.
What Happened to Simone Biles? Here's Video of Her Vault Performance Just Before Her Withdrawal
US Women's 3×3 Basketball Team Beats ROC to Win Sport's First Gold Medal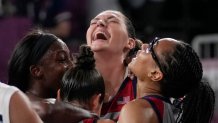 The four members of the U.S. women's 3x3 basketball team won gold and made history.
That quartet of WNBA players - Stefanie Dolson, Allisha Gray, Kelsey Plum and Jackie Young - led the U.S. to an 18-15 victory over the Russian Olympic Committee in the first ever women's 3x3 basketball gold medal game on Wednesday.
The outcome was never in doubt as the Americans jumped out to an 8-3 lead behind five early points by Plum.
After ROC cut the United States' lead to three, Gray drove baseline and converted a layup for a 15-11 advantage with 2:12 left.
Yulia Kozik hit a 2-pointer to pull ROC within 17-14 with 44 seconds remaining, but Dolson, a Chicago Sky star, answered with a putback to push the lead back to four and seal the victory and gold medal.
Dolson finished with seven points and nine rebounds. Plum finished with five points, Gray added four points and five rebounds, and Young had two points and three rebounds.
Mike Hixon, Andrew Capobianco Win Silver for US in Men's Synchronized 3m Springboard Final
The American duo of Andrew Capobianco and Michael Hixon took home the silver medal for the United States in the men's synchronised 3m springboard. China took home gold.
WATCH: Tearful parents sing anthem as Lydia Jacoby gets gold medal
The two Americans finished with a score of 444.36. It is the third straight Olympics that the U.S. has medaled in the event. It is the second medal in the event for Hixon, who won silver in 2016 with then-partner Sam Dorman. It is the first Olympic medal for Capobianco, who is competing in his first Olympics this year.
Capobianco attends Indiana University and Hixon is at Purdue University.
U.S. Men Sharp in Volleyball Rout of Tunisia
Let down against a clearly inferior foe? That's sure-fire fodder for disaster in nearly every athletic endeavor, particularly at the Olympic level, where mind-blowing upsets abound every four (or two, or in this case, five) years.
The U.S. men's volleyball team on Wednesday played as though that very message had been seared into their skulls just before they took the court.
With Tunisia, the lowest-ranked men's team in the Tokyo Games tournament, across the net, the Americans rolled, 25-14, 23-25, 25-14, 25-23 in Pool B action.
Particularly dominant up from, the U.S. got big performances from TJ DeFalco, Taylor Sander, Matt Anderson and Max Holt while improving to 2-1 in the tourney.
Tunisia fell to 0-3.