There was no shortage of excitement this weekend in the Tokyo Olympics.
The US made up for its slow medal start in a massive way, scoring big in the pool and making history in several sports.
Local athletes made their mark and some big-name stars took the global stage, including Chicago Bulls guard Zach LaVine, whose Olympic future was uncertain after he was placed under COVID health and safety protocols.
Here are five things you might have missed Saturday night through Sunday morning.
1. Team USA Dominates in the Pool After Slow Start to Tokyo Olympics
After failing to win a medal on Day 1 of the Olympics for the first time since 1972, Team USA made up for it with a huge night in the pool on Saturday night.
Tokyo Olympics
Watch all the action from the Tokyo Olympics live on NBC
Chase Kalisz and Jay Litherland kicked things off by finishing first and second in the men's 400m individual medley. The women also collected two medals in their 400 IM when Emma Weyant captured the silver to Hali Flickinger's bronze. In between, Kieran Smith came from behind to secure the bronze medal in the men's 400m freestyle.
Capping off the night was the women's 4x100 freestyle relay. Anchored by Simone Manuel, the U.S. women finished with the bronze behind Australia and the Netherlands. Glenview resident Olivia Smoliga was among those who received a gold medal after swimming in the prelims.
Not only did Team USA wipe out their goose egg in the medal count, they vaulted to the top of the standings. The six medals in the pool topped China's current total of four. Japan is third with three medals.
The U.S. swimmers entered Tokyo with high expectations despite a roster laden with first-time Olympians and teenagers -- and without Michael Phelps for the first time since 1996. After such a strong first night, the sky may be the limit for the Americans in the pool.
MORE: Chase Kalisz Wins 1st Tokyo Swim Gold, Litherland Silver
2. Simone Biles Holds the Lead in Women's Gymnastics All-Around
It should come as no surprise that after the United States completed its women's gymnastics qualifying round, the leader in the all-around is Simone Biles.
With a score of 14.133 on floor exercise, 14.066 on beam, 14.966 on vault and 14.566 on uneven bars, Biles finished with a score of 57.731. Just behind her is U.S. teammate Sunisa Lee, who topped Biles on beam with a 14.200 and uneven bars with a 15.200. Lee also scored a 13.433 on floor and 14.333 on vault for a total of 57.166.
The 24 gymnasts with the top cumulative individual scores advance to the individual all-around final, with a limit of two gymnasts per country.
As a team, the United States' score of 170.562 is currently second behind the Russian Olympic Committee's 171.629.
RECAP: Simone Biles Advances in All Events, USA finishes behind ROC after Women's Gymnastics Qualifiers
MORE: How Simone Biles' GOAT Leotard Was Created
3. France Stuns U.S. in Men's Basketball Opener
The United States men's basketball team's woes have carried into the Olympic Games.
After going just 2-2 in exhibition games, the U.S. lost in stunning fashion to France in its opening game in Tokyo, falling 83-76.
With the U.S. entering the fourth trailing 62-56, Jrue Holiday drained a three and hit a pair of free throws to pull the United States within one possession at 62-61 early in the fourth.
Another pair of free throws by Holiday pulled the U.S. even at 63-63, and Durant followed with a technical free throw to put the team back in front at 64-63. Holiday's corner three then rattled in to increase the lead to four, and he followed with a layup to make it 69-63. Holiday scored 12 of the United States' first 13 points in the quarter.
After France cut the lead to two, Zach LaVine responded with a three for a 72-67 lead. Still, France wouldn't go quietly as Nicolas Batum hit a three and Fournier followed with a jumper to pull within 74-72.
Gobert cut the deficit to one with a free throw. Off a wild shotattempt by Gobert, the ball was saved from going out of bounds and deflected right to Fournier, who hit a three that capped a 9-0 run and gave France a 76-74 lead with 57 seconds remaining.
Durant and Holiday missed potential go-ahead threes. A turnover by the U.S. while trailing 78-74 with 17 seconds remaining all but sealed it as France's run extended to 14-0.
A shocked U.S. team walked off the court having gone 2-3 in their last five games, including exhibitions. 74-67
HOW TO WATCH: The game will also be shown on NBC's afternoon coverage beginning at 12:30 p.m. CT.
MORE: Bulls' Zach LaVine Savors Olympics Experience After Health Hiccup
4. No. 1 Ranked Women's Volleyball Shuts Out Argentina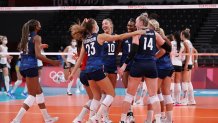 The women's volleyball team was in action on Day 2 and shut out Argentina in three sets.
Jordan Thompson led the way with 20 points on 18 kills and two blocks in the 3-0 (25-20, 25-19, 25-20) victory.
The U.S. will face world No. 2-ranked China in Pool B play on Monday, July 25, at 9:05 p.m. CT.
MORE: Michelle Bartsch-Hackley's Husband Was the First to Find Out She Made the Olympic Team
5. American Nyjah Huston Disappoints While Japan's Yuto Horigome Wins First-Ever Skateboarding Olympic Gold
American medal hopeful Nyjah Huston shockingly did not medal after only landing one trick in his final five attempts; a disappointing result for the four-time world champion. The other medal favorite, Japan's Yuto Horigome, lived up to the hype heading into these games.
Horigome entered the men's street competition at the 2020 Tokyo Games as one of the best street skaters in the world. The Japan phenom scored 37.18 points nailing four tricks 9.50, 9.35, 9.30, and 9.03 to secure his gold medal before most of the other skaters attempted their final trick.
American Jagger Eaton won bronze with a 35.35 score, adding to Team USA's impressive day 2 medal count.
RECAP: American Jagger Eaton Takes Bronze in First-Ever Olympic Skateboarding Final
MORE: