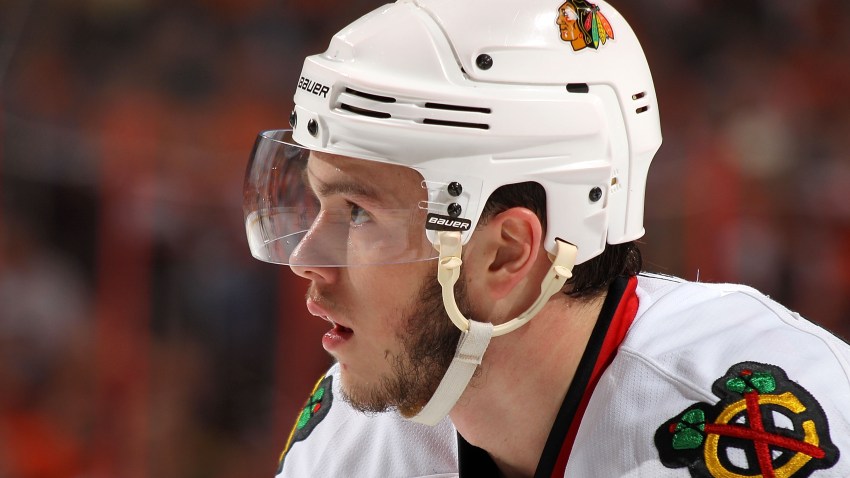 Jonathan Toews might be Candian, but he bleeds blue and orange. After leading the Chicago Blackhawks through the Stanley Cup finals last season he understands what a sports winner means to this team -- so he's pulling for the Bears.
"I think it would be pretty awesome to see a sports team do what we did last year and keep this city alive the way it was last spring," Toews said about the Chicago Bears playoff run.
Maybe that's why it's so shocking to hear some of his teammates backing the Pack.
Cheeseheads Jake Dowell and Jack Skille hail from Wisconsin are rooting for Green Bay this weekend. Following Sunday morning's Stanley Cup rematch with the Philadelphia Fliers, they plan to exchange their red and black for green and gold.
"I'll probably get a lot of Chicago people ticked off at me for saying this, but I have to go with the Packers," Dowell said. "I have some sweatpants and sweatshirts I can dig up that I used to wear on a daily basis."
Dowell went to the University of Wisconsin and before coming to the Hawks, he called Eau Claire, Wisconsin home. Skille is from Madison, Wisconsin and a fellow-Badger alum.
It's one thing to cheer for your home state, it's another to go against Chicago. Everyone knows the city thirsts for wins and allegiances fall to the side when it comes to championship runs.
The Blackhawks know better than anyone else. In the 2007-08 season, the team averaged 19th out of 30, with only 16,814 fans at its home games. This season, the team leads the league with about 21,289 fans per home game. Why? They won the coveted Stanley Cup!
Toews gets it: "You probably realize a little more how crazy this town gets when there is a sports team in the running for a championship like that," Toews said to ESPN.com.
Smart observation Captain Toews-- now reel in your teammates?