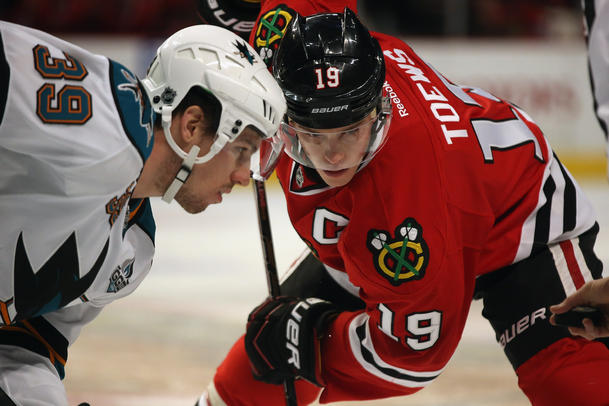 While he may have been left out of the Hart and Lindsay nominee lists as league MVP, Chicago Blackhawks captain Jonathan Toewsreceived a nomination for the Selke Trophy on Tuesday.
The award, given to the league's best defensive forward, hasn't been in the hands of a Blackhawk since broadcaster Troy Murray won it in 1986.
Looking at things statistically, Toews might have a tough hill to climb for a win. NHL.com did laud him for his excellent road plus/minus of +21, best in the league since the 2009-10 season, but he is very tightly matched with fellow nominee Pavel Datsyuk of the Detroit Red Wings in other key statistics.
Both players had solid Corsi numbers (measuring how many shots a player generates in ratio to how many he prevents), with Datsyuk edging Toews 15.48-14.72 in the regular season. Toews did have a slightly higher PDO (measures puck possession), beating out Datsyuk 1048-1038. Finally, both players started nearly identical amount of possessions begin in the offensive zone, with Toews at 55.1% and Datsyuk at 54.9%.
In addition, the third nominee Patrice Bergeron of the Boston Bruins trounced both Datsyuk and Toews in Corsi, putting up a blistering 26.62, and he started significantly fewer possessions in the offensive zone, at 42.4%.
If the award were based solely on defensive numbers, then Bergeron would likely have the edge, but the award is also heavily influenced by reputation in a similar fashion to Gold Glove awards in baseball. That probably means that the favorite will be Datsyuk, but Toews could benefit from his near miss in the Hart voting and get the Selke as a kind of consolation prize.
The award, along with all the other NHL awards, will be announced during the Stanley Cup Finals in June.