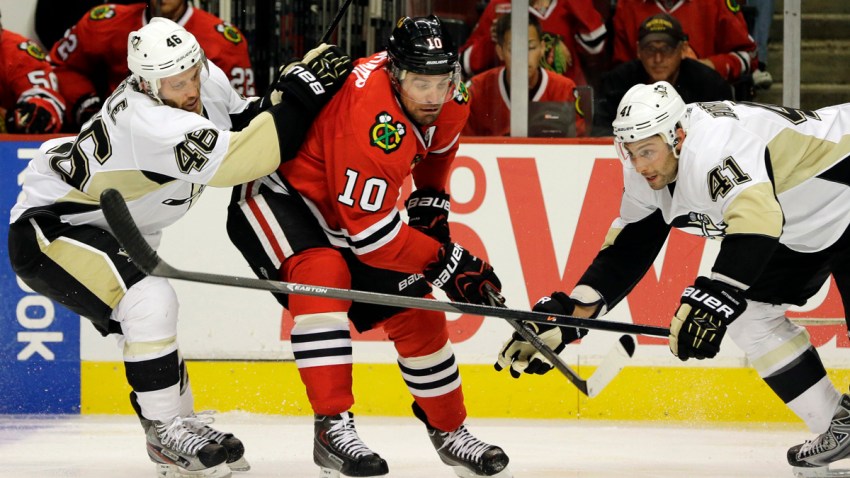 The Chicago Blackhawks dominated possession and scored twice on the power play on Wednesday night, but it wasn't enough as they dropped a gut-wrenching 3-2 decision to the St. Louis Blues in their first road action of the season.
We've already recapped the game for you, but for a different spin on the contest, here were our Three Stars of the Game:
Third Star: Niklas Hjalmarsson
Hjalmarsson did not have any points in the contest, but his three blocked shots proved enormously helpful, and he showed some great toughness as he led all Blackhawks skaters with 24:21 of ice time in the game.
Towards the midway point of the game, it didn't appear that he would get anywhere near that total. In the second period of the game, Hjalmarsson took a shot off of his leg, and was noticeably limping as he came off the ice. The Twitterverse predictably freaked out, but just a shift or two later, Hjalmarsson was back out there.
That toughness and ability to skate through pain is something that Hjalmarsson has always displayed during his years with the Hawks, and that durability is arguably his best asset
Second Star: Jonathan Toews
Going into Wednesday's game, we pointed out Toews as a player to watch because of the way that St. Louis seems to key on him physically, and he responded perfectly. He picked up a goal and an assist in the game, and was a big part of the Hawks' power play success.
On the Hawks' second goal, Toews was the guy who skated the puck around the boards and behind the Blues net to get St. Louis' penalty killers moving around the zone. He then fired a perfect pass to Patrick Sharp back at the point, and then Sharp snapped off a quick shot towards the net. The puck ended up going through Jaroslav Halak's legs after a deflection in front, and it was none other than Toews himself who cleaned it up and tapped it in from the goal crease to tie the game at 2-2.
Add to that his decision to jump in and defend Hjalmarsson after a dangerous hit along the half-boards, and Toews had himself quite the night in St. Louis.
First Star: Patrick Sharp
During the early going of the 2013-14 season, Sharp has arguably been the team's biggest offensive catalyst, and his two assists and four shots on goal during Wednesday's game hammer that point home.
It isn't just Sharp's numbers that are impressing folks early on. He seems to be playing with a burr under his saddle, skating with an intensity that if familiar to fans of Sharp but may take outsiders by surprise. He has been shooting the puck a lot as the season has gotten underway, and is doing a good job of really pushing the tempo coming out of the neutral zone.
That latter ability is especially crucial to the Hawks, since Marian Hossa has gotten off to a bit of a slow start this season, and if Sharp can continue to take charge like that, it's going to open up more ice for Hossa and Michal Handzus to work in.