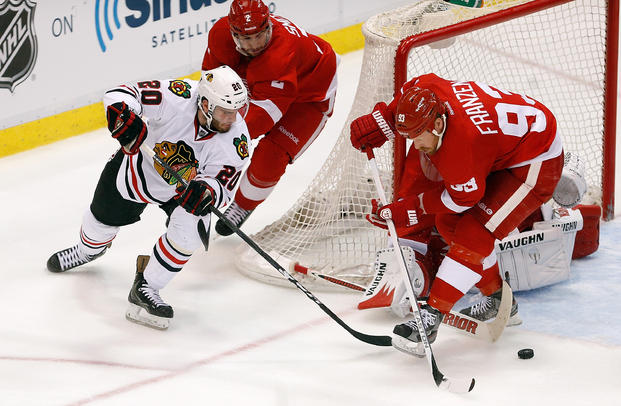 Despite putting 40 shots on goal, the Chicago Blackhawks were once again knocked off by the Detroit Red Wings in Game 3, losing a 3-1 decision at Joe Louis Arena.
We will have plenty of coverage in the coming hours and days on Madhouse Enforcer, but for now, here were Monday's Three Stars for the Blackhawks:
Third Star: Jonathan Toews
There is going to be plenty of talk in the next few days about how some of the Blackhawks' stars are not playing well in this series, but one really can't fault Toews for any lack of effort in this game.
Despite once again taking a physical beating from the Wings, Toews managed to fire seven shots on goal in this game, and was an integral part once again of the Blackhawks stellar penalty killing unit, which remains perfect so far in the playoffs.
Toews drew iron on a shot early on in the game, and if that play can be viewed as a microcosm of what's ailing him, the fact of the matter is that he's getting good chances, and one goal could conceivably open the floodgates.
Second Star: Michael Frolik

Frolik's zero points and minus-1 rating may not look good when one takes a cursory glance at the scoresheet, but the Hawks' ace penalty killer was in fine form in Game 3. He was great at disrupting plays, jumping into passing lanes, and making life difficult in general for the Red Wings power play.
Only defenseman Niklas Hjalmarsson had more time on the ice in the Wings' five power plays in the game, but even he wasn't as noticeable as Frolik was with his swarming play in this game.
First Star: Patrick Kane
For the second time in two games, Kane had the only goal for the Blackhawks in the hockey game, but it was the way that he scored it that really caught the attention of Hawks fans.
On the play, Kane was sprinting out of the zone when Duncan Keith lofted an excellent stretch pass over the heads of everyone. The puck bounced at least four feet in the air after hitting the ice, but Kane was able to stay in stride, settle the puck down, and fire a rolling puck between Detroit goaltender Jimmy Howard's legs for the tally.
With the Hawks' losing their second game in a row, it's going to be easy for fans to become discouraged, but when you see a player like Kane excelling at the game on a play like that, a fan has no choice but to smile.