Last night the Chicago Blackhawks provided glimpse of what could have been, and what could be again.
When Dave Bolland is healthy and the Hawks can roll three speedy lines at you, they can be hard to deal with. It's why we get so angry at them, because we see games like this and wonder why it can't be more often.
But last nights game was as much about pride as it was about the future. If that's what Dave Bolland and Michael Frolik can do together, I think we'd all like to make a go of it. Bolland will get most of the plaudits, and rightly so, but Frolik was his partner in crime last night, buzzing around everywhere, breaking up plays in the Hawks zone and creating them on the other. Duncan Keith's goal was all Frolik's work, as he shrugged off Alex Edler and found Keith from a spot it would be hard to miss from. Frolik still needs to be re-signed of course, and even if he is there's no guarantee that Coach Quenneville would play them together. But still, a nice little harbinger.
Is The Great Escape on? No, doesn't feel that way. It feels like a Vancouver team showed up, decided it would give it a go hoping the Hawks would roll over, and when they were getting it more than giving it, they packed up the bags and waited to put the executioner robe on at home. Maybe it's dangerous to let a team like the Hawks off the mat, even for a second. Or maybe when Vancouver really decides to turn the screw there's nothing the Hawks can do. We'll find out Thursday.
If nothing else, we all got to bound out of the United Center one last time. One last thrill of seeing the Hawks just maul a team, which hasn't been enough this year. That almost primal enjoyment of watching an opponent get completely dismantled and watching them being unable to do anything about it, completely helpless.
If you want hope, Jonathan Toews still hasn't had his day yet. Maybe he can't with whatever injury he's carrying, but you have to figure there's one. Marian Hossa hasn't had his either, and isn't looking like he can produce one. But he's still that type of player. And maybe Corey Crawford can still steal you one, which he hasn't yet -- and we don't know if he is that type of goalie anyway. But whatever way you get Game 5, and then the Canucks have to come back here, knowing a slip up would put them on the precipice of the greatest collapse in hockey history.
Maybe, just maybe. Or we should just be happy we went out at home on a good note, and we don't have to watch the plug be pulled in person.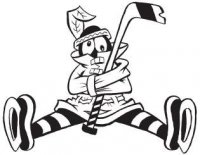 Sam Fels is the proprietor of The Committed Indian, an unofficial program for the Blackhawks. You may have seen him hocking the magazine outside the United Center at Gate 3. The program is also available for purchase online. Fels is a lifelong 'Hawks fan and he also writes for Second City Hockey .