Well, it's not a whimper, is it?
While some teams may want to ease into the NHL schedule again after six days off, the Hawks will get no such luxury. It will be the electro-shock therapy that is a date at Rogers Arena with the Vancouver Canucks always is. Guess the rustiness in the legs had better be totally shaken out.
There is much good news on the front. Jonathan Toews will play tonight after missing a game and a half with an arm injury. Patrick Sharp may be following him into the lineup, though he's waiting for this afternoon's morning skate (weird phrasing I know, but if you consider the time zones you'll get it) to confirm that. Brendan Morrison will make his Hawks debut as well, centering for Marian Hossa and hopefully Sharp. So there's lots to watch for the Hawks.
As for the Canucks, the big story with them for this one is that they are once again having Roberto Luongo duck the Hawks and will start backup Cory Schneider. They did this the last time the Hawks were there in November, and the Hawks torched Schneider. That doesn't mean Schneider isn't having an excellent season, because he is. But this has seemingly been the pattern, as it was Schneider who got the start when the Canucks went back to Boston earlier in the year. EIther way, let's hope history repeats itself.
The Canucks have ascended to their usual uncontested throne on top of the Northwest Division, after Minnesota's collapse back into the abyss, which was about as eminently predictable as the IRS tracking you down. They're in the discussion for the West's top seed, and will have the distinct advantageous viewpoint of getting to harvest points within their division of misfits while the Central continues to look like the Japanese film Battle Royale.
The past three seasons, the Hawks and Canucks have split the four regular season meetings, with each team winning one game in the other's building. The Hawks already have their win there this season. So let's hope nothing lasts forever, like all those things in that song once said.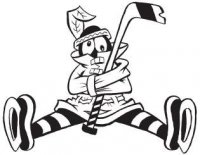 Sam Fels is the proprietor of The Committed Indian, an unofficial program for the Blackhawks. You may have seen him hocking the magazine outside the United Center at Gate 3. The program is also available for purchase online. Fels is a lifelong 'Hawks fan and he also writes for Second City Hockey .