It's always nice to be reminded that the people you laugh at will continue to do the things that cause your laughter. Let's have a close study of Harrison Mooney's column from the August 11 Vancouver Sun, which made me laugh:
Vancouverites probably remember the elation that ran through them when Alex Burrows scored the overtime winner to finally get the best of the Chicago Blackhawks in the post-season,
Maybe they do, but somehow, and I'm just spitballing here, I'm guessing the Game 7 loss at home in the Final probably takes precedence. I'm only basing that on the reaction after it. You may remember it, national embarrassment and all that? Hope it rings a bell.
...but imagine how you might have felt if, say, you lived in Chicago. What do you think is the exact opposite of that elation? All-consuming rage? I'm imagining Angry Hawks Fan, but much, much angrier.
Yeah, again, take the first paragraph I wrote, and reverse it. We were upset at the time, no doubt. Though there were two mitigating factors: One, it was kind of a farce it ever got that far anyway, and second that whole Game 7 against the B's again. Most Hawks fans took the prescription of staring upon the banner we have and that you don't. Believe me when I tell you it cures a lot of ills. You probably won't find out one day before you're dead though.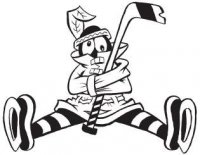 Sam Fels is the proprietor of The Committed Indian, an unofficial program for the Blackhawks. You may have seen him hocking the magazine outside the United Center at Gate 3. The program is also available for purchase online. Fels is a lifelong 'Hawks fan and he also writes for Second City Hockey .