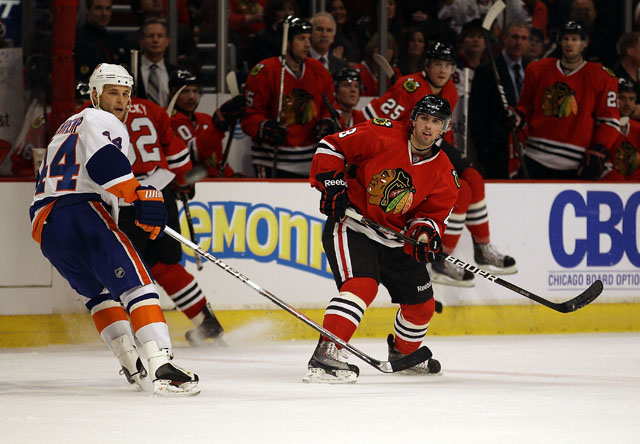 Wednesday night will mark the ninth game Nick Leddy plays with the Chicago Blackhawks. For the those who might not know, your 10th game signals a year of service as far as your contract is concerned, and Leddy would be a year closer to restricted free agency.

If he does not play another regular season game after Wednesday, the Hawks would still have him locked in for three years. The Hawks will have a decision to make.
It's hard to judge Leddy after the two games that came after he finished his tour at the World Junior Championships. The Senators and Islanders aren't exactly a grueling test.

He does appear to be more confident in his game and a little more assured in his own zone. He didn't throw the puck around the boards in a rushed panic, and he skated his way out of trouble. He didn't hesitate to jump into the play in the offensive end, which is going to be his strength one day.
Leddy's got a bright future. He's already got offensive instincts, can skate like the wind, and appears to have pretty good hands. He's probably marked to replace Brian Campbell one day, as their games are very similar.
But it is not this day.
Leddy doesn't solve what the Hawks' problems are on their third pairing. They would prefer a sizable body who can block shots and clear the crease on the penalty kill. Leddy is most certainly not that.

What Leddy brings to the table is already duplicated in Campbell and Duncan Keith, who should be doing that for close to 60 minutes a night combined. Unless they were going to pull Keith from the power play, which they won't, then there isn't a lot of time for Leddy.
It just wouldn't be prudent to waste a year of a contract on Leddy right now. The learning curve for NHL d-men is so steep. It's generally thought to be about 150 games until they have a clue. That's not hard and fast, but the usual occurrence.

Leddy has had 30 games at college and barely 30 at the AHL level. Facing the best in the world is going to be a huge shock to him. I just haven't seen where he stands out so much that he has to be here.
Complicating matters is the logjam on the blue line at Rockford, the Hawks' AHL affiliate. With the recent signing of Dylan Olsen, the Ice Hogs have him, Shawn LaLonde, Ivan Vishnevsky, Brian Connelly, Garnet Exelby, and Jassen Cullimore all vying for time.

Some are more important to develop than others, but all should be playing some. Maybe that's why Leddy will stay here, just so they can guarantee him regular ice time.