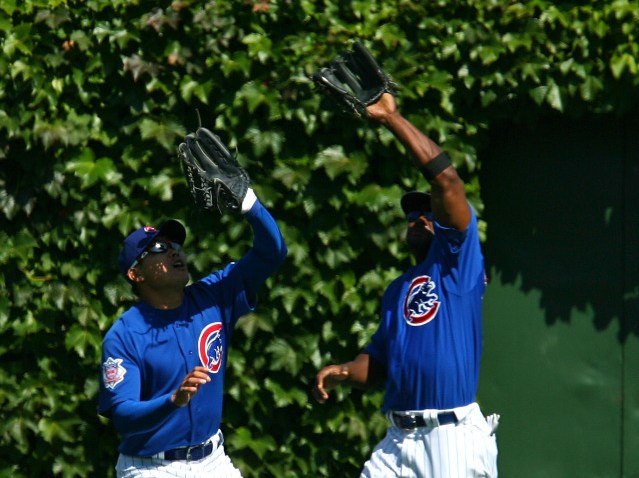 Remember when the Cubs were going to be awesome? That seems like forever ago. In the meantime, just about everything has gone wrong. In the interest of historical preservation, let's go through the numerous failures again, shall we?

November 11, 2008: Despite his apparent willingness to stay in Chicago for a hometown discount, Kerry Wood is not re-signed. GM Jim Hendry tells local sports radio Kerry "needs to go get his money." So, not only is Hendry a mediocre general manager, he's a financial adviser, too.

December 31, 2008: Mark DeRosa, the Cubs' most versatile player, is traded at the height of his value to the Cleveland Indians for prospects Jeff Stevens, Chris Archer, and John Gaub. DeRosa now plays for the St. Louis Cardinals. Need we say more? In the meantime, DeRosa's trade opened up left field for ...

January 8, 2009: ... The signing of Milton Bradley! Woo-hoo! In his illustrious career with the Cubs, Bradley has managed to stay healthy. So that's good! He's also managed to barely touch his career averages in hitting, OBP and the like. In the meantime, he's accused Cubs fans of racist comments, feuded with manager Lou Piniella, and in general been not a competitive spark but a grumpy jerk. And when you're a grumpy jerk AND you're not hitting, no one's going to like you.

May 8, 2009: Aramis Ramirez dislocates his shoulder diving for a ball down the third base line in Milwaukee. He misses two months. The Cubs suck throughout. When he does return, clearly bothered by injury, Ramirez fails to maintain his typical production. The Cubs continue to suck.

April 2009-August 18, 2009: Kevin Gregg closes baseball games. Mercifully, this doesn't continue past mid-August. Pity it didn't end soon enough.

September 9, 2009: Today. The Cubs are currently two games above .500. They're 11.5 games behind the St. Louis Cardinals. Mathematically, they have a .7 percent chance of making the playoffs, which, when you think about it, is roughly the same chance your company softball team has of winning a major league baseball game. Which means there's still time! The Cubs can still turn this around!

Ha, just kidding. No they can't. Same as it ever was.

Eamonn Brennan is a Chicago-based writer, editor and blogger. You can also read him at Yahoo! Sports, Mouthpiece Sports Blog, and Inside The Hall, or at his personal site, eamonnbrennan.com. Follow him on Twitter.
Copyright FREEL - NBC Local Media