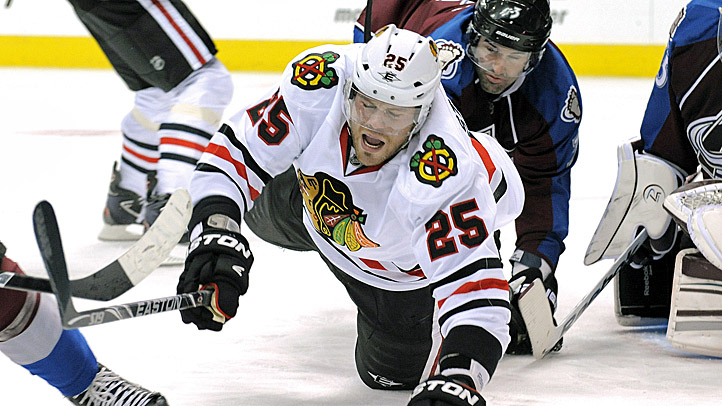 Didn't the Hawks just come home trying to reverse a long losing streak? Yes, they did.
Now they have to do it again Wednesday night, as they return home following three straight losses -- two of them of the embarrassing variety, and try to build again as they face Toronto.
They'll still be without Jonathan Toews, Niklas Hjlamarsson and Steve Montador. The defense at least will get something of a boost with the debut of Johnny Oduya. He will skate with Brent Seabrook on what is nominally the second pairing. This will at least have the benefit of cutting Nick Leddy's responsibilities, which he'd been crumbling under. Oduya at the very, very least will be steady. He's not going to flip anyone's eyes back, but he won't shy from contact or get puck-jittery as Leddy has in recent weeks.
Right now, the Hawks simply need steady.
One thing to watch for with Oduya is how successfully he can get the puck from behind his net and the corners to forwards. He's a smart player, and generally makes a good first pass. That doesn't mean 180-foot bombs to streaking forwards for breakaways. It means a solid pass that evades one or two forecheckers that lands right on the tape of a teammate with time to spare. Generally it won't go farther than the circles or maybe the Hawks blue line. But right now, that solidity is all that's required.
The Hawks will also hope to get a jump from callups Brandon Bollig and Andrew Shaw. While they may be dumb, they can at least skate hard and create some contact. It's kind of sad these are the two things we're asking for here.
Luckily for the Hawks, they'll get to trot out their new toy against a team that is a far bigger mess than they are now. The Leafs have gotten just three points out of the last 22 on offer, and are playing tighter than a snare drum at the moment. Their goaltending has completely collapsed, their coach has lost his mind and is bus-tossing various players in the press, and their confidence is at an all-time low. Last night's loss to Florida at home was a perfect example. The team is so nervous after dropping out of the playoff spots they come out jittery and make two quick mistakes that both land in their net, and they're chasing the rest of the game.
The Leafs come with one line, with two of the leading scorers in the league in Phil Kessel and Joffrey Lupul. Kessel is one of the most dangerous snipers in the league, and with his simply disgusting release can score from anywhere. Lupul is a pain to deal with around the net. But if you keep those two from going off, the Leafs don't have any other scoring anywhere.
Even better, they like to play a fast game, but struggle with teams who can do it better than they can, especially teams that can put their young defense through the rigors. The Hawks, even in this funk and even without Toews, should be able to do that.
But nothing's been that simple all year, has it?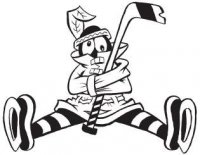 Sam Fels is the proprietor of The Committed Indian, an unofficial program for the Blackhawks. You may have seen him hocking the magazine outside the United Center at Gate 3. The program is also available for purchase online. Fels is a lifelong 'Hawks fan and he also writes for Second City Hockey .