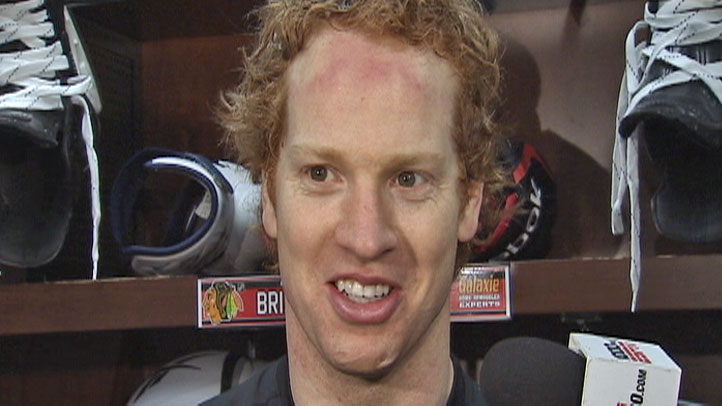 A former players will make his first return visit to Chicago since departing for another team, when Florida's Panthers come to the United Center.
But he might not get the same warm reception that also departed stars like Tomas Kopecky and Kris Versteeg got.
Brian Campbell probably won't be cheered for, and it's thanks to this city's confounding relationship with big-ticket free agents. Pick any sport, and fans in this city just never warm up to anyone making a lot of money. The fact that what a player's salary is should be completely removed from judging a player never comes to the fore here. After all, no one walks into a GM's office with a gun and demands a contract. They're offered one. Who wouldn't sign it?
Campbell was behind the eight-ball from that signing with a lot of fans. Add to that Campbell was never a perfect player, and you had a lot of knuckle-draggers who just wouldn't accept him. I fear theirs is the voice that will be heard most when 51 Phantom hits the ice tomorrow. I'm glad I won't be in the building to hear it. It would sadden me.
Campbell for his three years was a total professional. His defensive game was spotty when he arrived, and three years later he had worked and improved upon it to be the most consistent defender the Hawks had last year. He was an incredible skater, and vital to the Hawks up-tempo game. Thanks to Campbell, the Hawks had a d-man to push the play on the ice for at least 2/3rds of the game. Campbell was also a leader. He sounded the alarm last year as to how much trouble the Hawks were in while his teammates giggled at the thought of missing the playoffs. He kept them calm during the Cup run in 2010, reminding them how far they were from getting there in the Conference Final. It was Campbell who saved that Predators series that looked real dangerous when he returned from injury with the Hawks 2-1 down and facing a Game 4 in Nashville.
And there's the little nugget of Campbell keeping the puck in the zone about 10 seconds before Kane scored in Game 6. He will always have an assist on the goal that ended 49 years of frustration and depression.
Yes, his contract was a burden. But the player himself wasn't. But some people just can't separate the two. I hope there aren't enough of them in the UC tomorrow to drown out those who know better, because Campbell deserves to hear from them more.