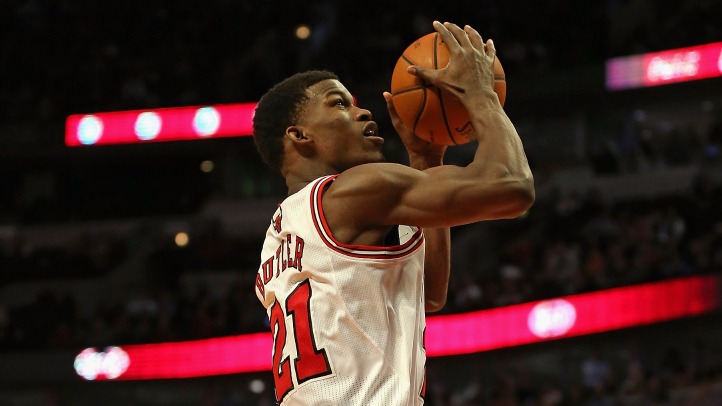 Leading up to the game with the Pacers, Rip Hamilton was out with a torn Plantar Fascia. That meant Tom Thibodeau had some decisions to make at the starting two-guard spot. Would it be Marco Belinelli, the veteran, or second-year swingman Jimmy Butler?
Thibs ultimately decided on Belinelli and his play against Indiana left a lot to be desired. The guard continues to struggle on offense and his defense is a continual work in progress.
At times he appears lost and indecisive and for someone with a reputation as a shooter, that's almost always a recipe for disaster.
So what's the remedy? Does Thibs continue to ride with Belinelli in the hope that he'll somehow snap out of his funk, or does he give young Jimmy Butler a crack at the starting lineup?
Butler has shown steady improvement from the beginning of the season until now. Although he doesn't appear to be confident in his offensive ability yet, overall he seems a lot more comfortable on the court and appears to have discovered what his biggest advantage is: his motor.
When Jimmy Butler is playing with high energy, he impacts the game on defense and can be a huge asset on the glass. His nine rebounds against the Pacers on Tuesday night is just one example. And although he didn't get to the line against Indiana, Butler has shown an uncanny knack for drawing contact and forcing the referee to blow their whistles.
Also in comparison to Belinelli, Butler's length and athleticism on the wing is something the Bulls are sorely lacking right now and could be a huge asset with Rip being injured. Of course, you're sacrificing a lot offensively by inserting Jimmy into the starting lineup, but given the lack of production from Belinelli -- both as a reserve and now as a starter -- is it really that much of a gamble?
Thibodeau will likely continue to go with Marco as his starting shooting guard, but at some point, with Hamilton likely to be out for an extended amount of time, Jimmy Butler should get a shot just to see what he can do with starters minutes.