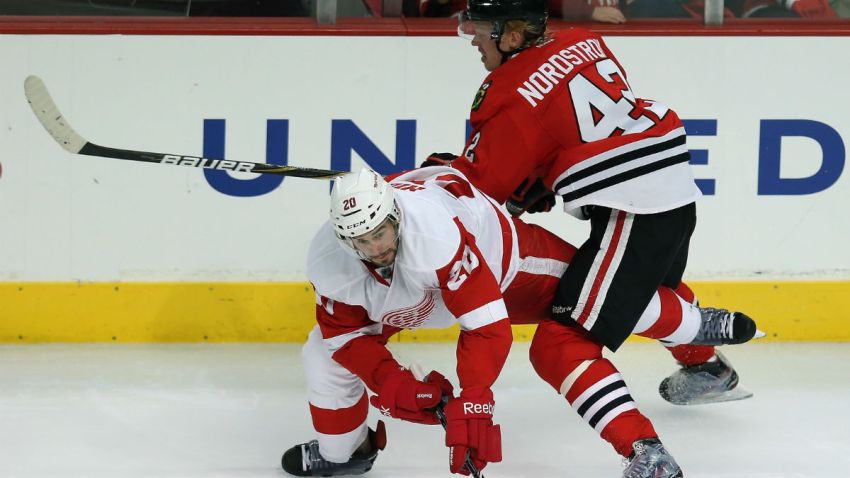 When the Chicago Blackhawks finalized their roster for the opening of the 2013-14 season, there were a couple of surprising names that appeared on the list.
Swedish prospect Joakim Nordstrom made the team largely on the fact that he is capable of playing both the center and wing positions, and also filled the role of a prototypical fourth winger who can provide some offensive spark, but also has the ability to play solid defense both at even strength and on special teams.
Jimmy Hayes and Ben Smith weren't necessarily all that surprising (certainly not as interesting as Mike Kostka grabbing a roster spot out of camp), but it still was interesting to see both forwards get slotted into third line duty with Brandon Saad and Andrew Shaw in the games that they have played.
At any rate, the young guys haven't been blowing anyone away in the opening days of the new season. In a combined six games (Hayes has played twice, Smith once, and Nordstrom in all three tilts), the trio has combined for zero points, five shots on goal, and two penalty minutes.
Granted, Nordstrom's job description isn't to get points, but he and Smith have both struggled in other areas too. The team's penalty killing unit, a huge strength of theirs last season, has gone in the tank in the early going, with poor execution and a pervasive passivity leading to the unit giving up goals 56% of the time through three games. Nordstrom has been right in the middle of that, losing coverage on Alex Ovechkin in the team's first game and allowing the All-Star forward an easy goal.
It's still early in the season, so it seems foolish to be calling for heads already, but it can be argued that Nordstrom especially may not be quite ready for the NHL. He turned some heads with his play during the preseason, and on paper, he seems like the prototypical fourth liner. He can play both center and wing (a huge plus in Joel Quenneville's book), and he isn't afraid to mix it up in the trenches. Despite those pluses, he does seem like he's having a tough time adjusting to his role with the Hawks, and if he continues to struggle, then the team would be better served sending him down to Rockford for more seasoning.
If they were to do that though, who would they bring up? They do have a couple of decent options at forward, but the one that would make the most sense in this situation would be Jeremy Morin. He not only can play on the third line with Shaw and Saad, but he also could potentially be a really good penalty killer, as he showed some good on-ice awareness and aggressiveness during the preseason.
Again, three games into the season is really early, but the Hawks' schedule does pick up quite a bit in the near future, and there are some tough opponents on the docket, including the New York Islanders, the St. Louis Blues (this time on home ice), and the Toronto Maple Leafs. The Hawks will need to be at their best going into these games, and if Nordstrom is still struggling in his fourth line role, then it might be time to swap him out with another Rockford youngster.