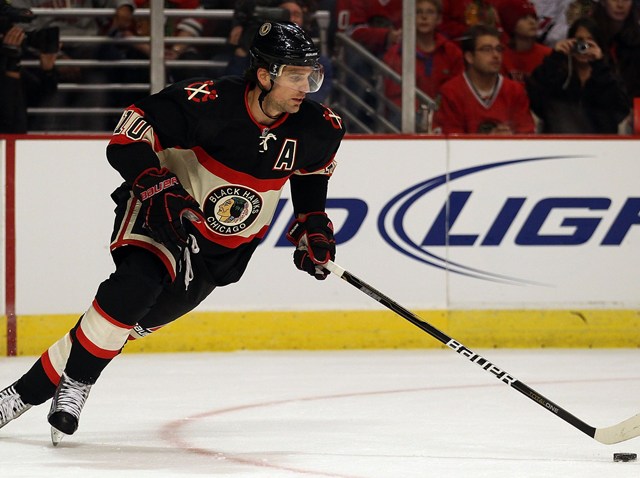 I once had Zeno's paradox explained to me by a roller-derby girl from Baltimore in a bar in Logan Airport. Zeno's paradoxes were basically confounding riddles that prove motion is a figment of perception.
Her derby name was "Xena Paradox". I assure you this will not be as interesting as that.
Much like how Zeno pretty much contended that things don't actually move, Patrick Sharp also appears to be stuck in neutral. I was particularly bothered by this quote from ESPNChicago's Jesse Rogers in a piece he wrote Sunday:
Sharp on his -13 +/- rating: "I really don't care about it to be honest with you," Sharp said. "I know I'm a reliable player in all zones. There's been times I've led the team in plus/minus. To me that stat is telling in some areas, but I'm not really bothered by it. I'm more concerned with helping the team win and that's the main thing."
Well, merely saying you're a reliable player in all three zones doesn't make it so. In the past, this was true. But it is most certainly not now. And if Sharp's main priority is the team winning, then he should be bothered by his plus-minus, as he's not helping.
It's hard to argue with Sharp's offensive numbers. We've discussed this before; Sharp is headed to a career-high in goals. But 11 of them are on the power play. At even-strength, Patrick Sharp is the worst player on the Hawks. They are almost two goals worse off for every 60 minutes he's on the ice at even-strength. You can't ignore this.
Why is this happening? Well, stats won't tell you everything. First off, as Rogers's piece points out, Sharp has been on the ice for every empty net goal the Hawks have given up, which balloons his +/- from a -5 to a -13. But Sharp shouldn't be a minus player at all. He was Patrick Kane's linemate when Kaner simply couldn't be bothered about anything behind the red line for the first half of the year. He's now Tomas Kopecky's linemate, and Kopecky is just genuinely helpless all the time in his own zone. That kills a +/-.
But this isn't the Republican Party, and I'm not trying to allay blame everywhere but where it belongs most. Sharp has spent far too much of his time trying to fire out of his zone to start an attack that isn't actually happening instead of battening down the puck in his own. Instead of moving his feet and using his plus speed in defense to hassle puck-carries, Sharp has opted for a more stand-still-and-reach-with-your-stick routine (a routine that can land you in serious trouble depending where it's employed), which is just lazy. This is all on Sharp.
Especially carrying Kopecky who needs support, there's no reason Sharp and Hossa can't be defensively lock down other than complete uncaring and stupidity. They're also not firing offensively right now, though they blew enough chances on Friday to kill a horse. But if they're not scoring lots, they're a detriment to the team.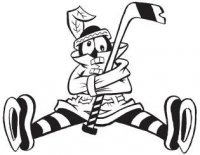 Sam Fels is the proprietor of The Committed Indian, an unofficial program for the Blackhawks. You may have seen him hocking the magazine outside the United Center at Gate 3. The program is also available for purchase online. Fels is a lifelong 'Hawks fan and he also writes for Second City Hockey .