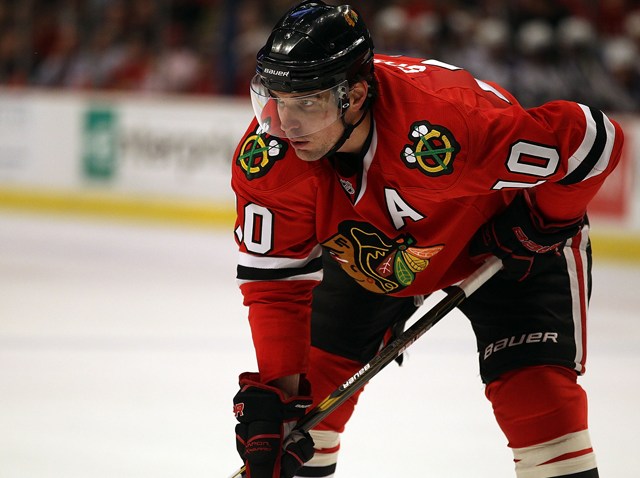 The good news is that Patrick Sharp's knee isn't antipasto salad.
The bad news is that he's going to be out what sounds like most if not all the rest of the regular season.
Did they tell us what's wrong? Of course not, don't be silly! Why would they do that? So even if I did want to play doctor (tried it once, it was messy), I can't because I don't know what I'm asking to heal. Basically, one day Sharp won't be skating, and then one day he will be. That's how this will go.
Judging by the players' comments, they're not preparing to have him any time soon.
There's also been no progress on Bolland's concussion, which gets more worrisome by the day. It's been a week now, so even if he started feeling better tomorrow it would still be another week before he'd probably start skating. Each day he's in brain-purgatory is another day you have to add on that he would need to start feeling better. It's going to be a while, and it's up to you to debate which is the bigger loss. However, Hawks fans should keep from bleating too loudly, as the Pittsburgh Penguins are chugging along without the 200 combined points they would be getting from Sidney Crosby and Geno Malkin at five games over .500 since they went down. It can be done, you just have to be determined to do so.
Where do the Hawks go? First, it's probably easiest to replace him on the power play. He was never a natural fit on the point there, Chris Campoli or Nick Leddy are. Campoli is already feeling at home there with the game winning goal in Phoenix from a spot that Sharp probably would have taken up. Sharp also killed penalties, and his speed was a threat the other way. But the kill hasn't been any good with him, and Troy Brouwer, or Michael Frolik can probably fill in admirably there.
But at even-strength? As I said yesterday, Viktor Stalberg or Troy Brouwer can give you a couple games at a high level, but you lose that production on lower lines, and they can't be the threat that Sharp is over the long haul. However, maybe 10 games the rest of the year doesn't count as the long haul.
The Hawks need 10 more points, most likely, to secure a playoff spot. Five wins. Tomorrow's is a gimme against the Panthers, whatever happened in Florida. Saturday at home against Anaheim is a toughie, but doable. The rest of the schedule? The Hawks have to beat Columbus in Ohio and the Blues at home the last week. Then it's just a matter of scraping 2-4 points in games at Detroit x2, Boston, Montreal and at home to Tampa and Detroit. Do that, and maybe Sharp and Bolland are back for the playoffs, and everything starts over.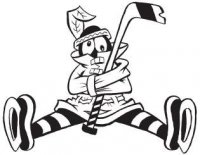 Sam Fels is the proprietor of The Committed Indian, an unofficial program for the Blackhawks. You may have seen him hocking the magazine outside the United Center at Gate 3. The program is also available for purchase online. Fels is a lifelong 'Hawks fan and he also writes for Second City Hockey .