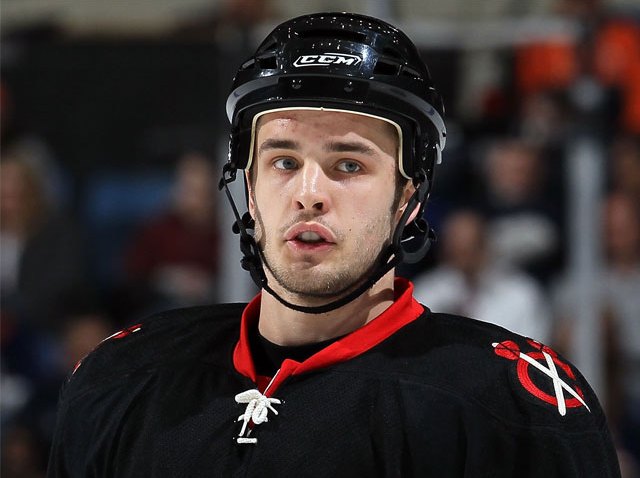 At some point this summer, I sure hope Niklas Hjalmarsson bought Duncan Keith a lot of drinks, or at least got him a sweet wedding gift.
Because thanks to Duncan Keith's experiments with Kabuki Theater on ice last year, Hjalmarsson's regression into the theater of the absurd was overshadowed. And make no mistake, Hammer was just as bad if not worse than Keith last season. At least Keith had brief stretches where he looked like an upright human being. It's hard to remember when Niklas did.
And the Hawks need Hjalmarsson. The worst part of his game the previous campaign was a newfound fear of contact. Maybe he should hang out with Jay Cutler for a while and see how bad it can get. With Hammer's need to curl into the fetal position everytime an opposing forechecker was in the same zip code, it led to a complete breakdown of the Hawks game. Instead of a solid first pass or a d-man breaking the team up the ice, Hammer would just fire the puck into center ice to be easily picked off, leading the other team to come charging into the Hawks zone with the Hawks forwards caught up ice. And then the roof would cave in.
Maybe Hammer was carrying an injury we didn't know about. Maybe he wasn't helped by most of the Hawks forwards shirking their responsiblity and instead of staying back and giving Hammer an outlet they were just firing up ice to score and impress chicks before they should. Maybe it was both. But it wasn't fun to watch.
First and foremost is Hammer has to correct this. Maybe he needs to be a little quicker on his feet to avoid checks and make a solid pass out of the zone. Maybe he has to relearn how to take a hit to make a play. Maybe he needs to be stronger and bigger so he can throw his weight around more. Hjalmarsson has never shown the wrecking ball hitting that the Hawks keep promising. Now would be a good time.
Either way, Hammer is going to be a huge part of the penalty kill, as he's probably the best shot-blocker on the team. He can't shirk that responsibility. Most likely, he's going to be paired with Nick Leddy, which means he has to be far more assured than he was last season in order to help what still very well may be a jittery kid struggling with newfound responsibility.
A long summer of not getting crushed probably helped. And now Hammer isn't guaranteed a second pairing role. If he continues to duck and fire the puck aimlessly, Steve Montador is right there to take those minutes. And Brian Campbell isn't around to bail him out this time.
While everything hinges on Duncan Keith returning to his previous form, a lot also depends on Hammer being Hammer again, and not....some....less....forceful tool. Sorry, ran out of metaphors there.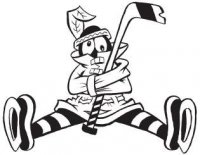 Sam Fels is the proprietor of The Committed Indian, an unofficial program for the Blackhawks. You may have seen him hocking the magazine outside the United Center at Gate 3. The program is also available for purchase online. Fels is a lifelong 'Hawks fan and he also writes for Second City Hockey .