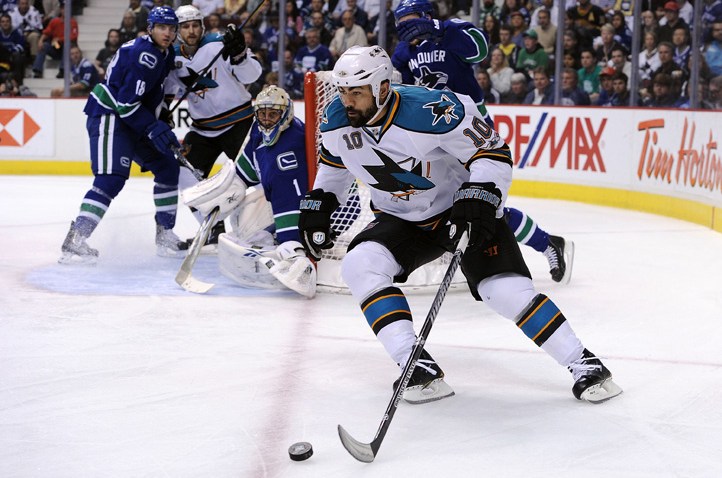 It's always weird when a team targets "a guy" in the opening hours of free agency, as the Hawks did with Jamal Mayers.
It's hard to fathom they thought he could be so important a piece that they had to have him right now. Maybe they just thought that there would be other offers, and better ones. Or maybe the Hawks offer was the first one that Mayers got and he thought it was the best situation he would get. Either way, he's here, and he'll fill a spot.
And that's about all you can say about Mayers. Unlike Carcillo, he's not explosive -- either mentally or possibly offensively (10 goals for a 4th line nutjob would have to be considered explosive). He's a decent skater, but not blinding, which would seem to be at odds with the high tempo game the Hawks ask even out of their 4th line.
But he won't let anyone down, but he's not a Budweiser Clydesdale either. Yes, he'll hit, but he's never been known as a crusher. He'll drop the gloves, he did so 12 times last season and 15 the one before that. But he only won three of his bouts last year, according to Hockeyfights.com (an entertaining site run by the damned, obviously). So whether you question if fighting makes a difference or not, Mayers shouldn't have too many people shaking in their boots. Or skates. Or whatever footwear.
One thing Mayers can do is kill penalties. He had an excellent year in San Jose the previous campaign doing so, and his numbers in that arena would have landed him among the leaders on the Hawks (though that can be credited to a penalty killing unit that was essentially a cheer pyramid comprised of the unconscious last season). However, he didn't kill many penalties in '09-'10 and was part of a woeful unit in Toronto the one before that, but that might have more to do with being on a terrible team with a complete lack of goaltending.
Basically, Mayers is one of those guys who you'll describe as "he'll do a job." He'll take his shift on the energy unit, and do what's asked. He's a veteran, so he knows what not to do. His lack of speed may result in a penalty or two, but they generally won't be in the dumb category -- Carcillo should have that covered.
But Mayers's spot could always be under threat, if the Hawks want more offensive punch through Viktor Stalberg, or maybe a kid in Rockford just has to crack the lineup, sliding someone else down. Mayers is pretty much a seat filler, and the camera will probably gloss over him in the same mold.