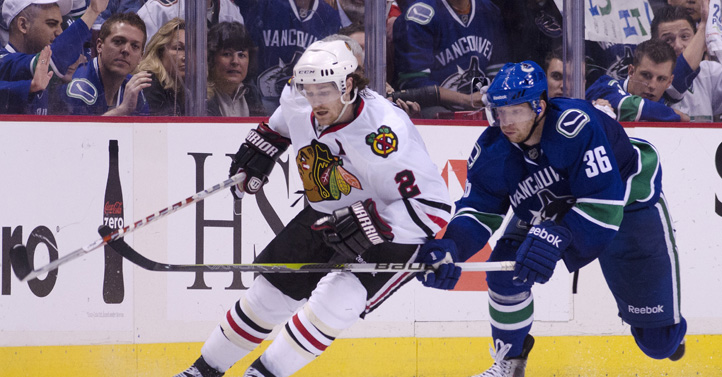 I'm not much one for overstatement. Hyperbole and I don't buy each other drinks. Being provocative for the sake of being provocative is generally something I leave to Madonna.
But Duncan Keith pretty much is the Hawks entire season this year.
Last year, even Keith would tell you he was way below where the team needed him. In fact, for the most part he was awful. Panicky with the puck, decisions that could only be reached after electro-shock therapy, at times carrying all the interest of a boyfriend at a wedding shower, and no physicalitly.
Seriously, there were times, especially on the penalty kill, where Keith was little more than a server's assistant in front of his own net, allowing opposing players to get as many whacks as they'd like from the crease to jam home loose pucks. More whacks than woodchuck, that's for sure.
And the Hawks can't live with that. It's been said other places, but Duncan Keith isn't paid to be good. He's paid to dominant. He's paid to snuff out every danger that passes in front of him as well as use his superhero skating to kickstart the Hawks the other way. And he's supposed to do that 25 minutes a night. When he doesn't, the Hawks don't have a shutdown pairing. There's no one they can trust to see the safely through an important part of the game. They can't guarantee they won't give up a back-breaking power play goals. Their offense suffers, as they're doing the duties of defending because Keith can't get them out of there.
However, if Keith returns to form, then they have one of the more unique weapons in the game. A player who puts the iron bars up on defense, gets the play started, and can beat most forwards back up the ice to join the rush, usually in a dangerous amount of space.
And we're more likely to see the latter than the former. Keith admitted to being uninterested at points last year, perhaps suffering most from the hangover of the previous season where he collected the Norris Trophy as well as the Cup and gold medal. That won't happen again this year. He's come into camp in great shape. He seems determined to get up amongst the game's elite again.
One thing to watch is his minutes. Last year, eve though he was bad, thanks to Nik Hjalmarsson's daliance with wretchedness and a total lack of a third pairing, Keith was thrown into playing half an hour a night from the get-go. This after the longest season and shortest summer of his life. That can't happen again. And it shouldn't with a much deeper blue line. One thing that might help is getting Keith off the power play. Though he'd hate it and he is good on there, at least to start it would help keep his minutes down. With Seabrook, Sharp at point, Montador, Leddy, and Lepisto, the Hawks have more than enough candidates to play back there with the man-advantage. When the games really matter, then Keith can slide back in. But fresh in spring should be the main goal.
Keith doesn't have to win the Norris this year for the Hawks to be a real contender. But it has to be at least a whisper.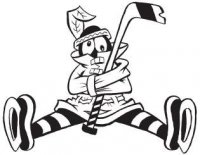 Sam Fels is the proprietor of The Committed Indian, an unofficial program for the Blackhawks. You may have seen him hocking the magazine outside the United Center at Gate 3. The program is also available for purchase online. Fels is a lifelong 'Hawks fan and he also writes for Second City Hockey .