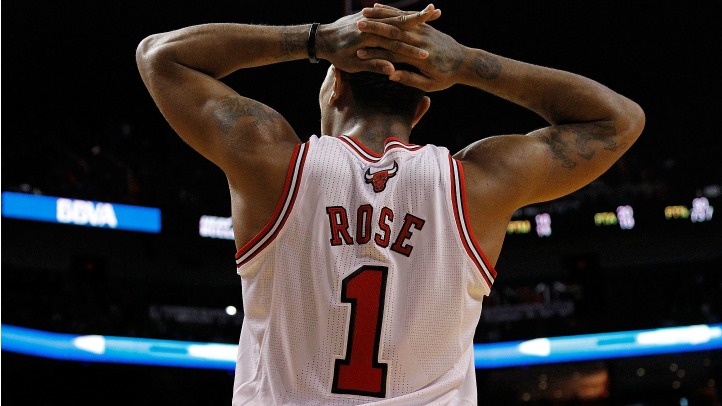 There's no question that Derrick Rose has been struggling so far this season. Granted, the Chicago Bulls are only three games into the 2013-14 campaign, but the former MVP has not looked good on the court.
He says his surgically-repaired knee isn't an issue, nor is the neck pain that threatened to keep him out of the Halloween night home opener at the United Center. But whatever the issue, D. Rose can count on his coach and his teammates to have his back.
"He'll be fine. I'm not worried about Derrick," said Joakim Noah to CSN Chicago after Saturday night's loss to Philadelphia. "You know, his competitive nature and all that, we're in this together. The same goes for all of us. When he struggles, we all struggle, when I struggle, we all struggle. We're all mad that we're not clicking, but we will. I'm not worried about it. I'm confident in this team."
Chicago entered the season with championship expectations, especially considering the roster taking the court now won't be the one that takes the court next season as wholesale changes are expected to be made. And with the way he played during the preseason, MVP expectations were placed upon Rose and so far, he hasn't quite lived up to them.
"Derrick's nature is to work. He'll be in the gym. He'll study. The only thing he has to do is play in the game, shake some of that rust off," said Tom Thibodeau of his star. "And we have to work as a team in practice. We do that and we'll be fine."
Fans may want to jump the gun and enter into panic mode given Rose's and the team's struggles, but it's way too early in the season to do that. For now, to quote Tom Thibodeau, the magic is in the work. And everyone has a lot of work to do.
"For me, it's continuing to go out there and take the shots that they're giving me, and I told you, I'm going to wait, but I'm going to have that breakthrough game," Rose said. "I'm playing the game that I love playing. Of course I want to perform better, but I can't beat myself up about that. I know it's going to come to me and all I can do is, like I said, is work hard every day, polish my game up and it's going to come."