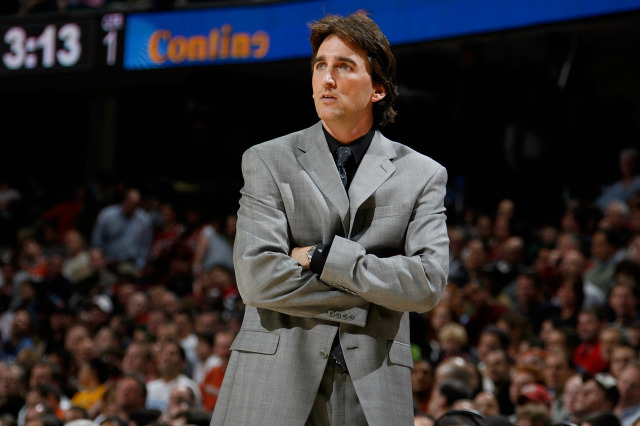 Derrick Rose is committing an awful lot of turnovers, and he's only partly responsible.

Rose's turnover average has jumped from to 2.5 per game to 3.0 in his second season. Even adjusting for possessions, that's not good, because Rose's potential development hinges on the notion that point guards begin to figure things out in their second season.
It would be a slight cause for concern if Rose's turnover rate remained the same; his turnovers are supposed to dwindle, not increase.

Bulls beat writer K.C. Johnson took note this weekend and brought the question to Rose, who, in typical Derrick Rose fashion, pledged to do better. (He's a sweetheart, isn't he?) But Rose isn't entirely to blame for his turnover problems so far this season. His coach is.

Yes, Vinny Del Negro deserves a good amount of blame for Rose's issues, because he's putting Rose in difficult positions in the half court.
Teams have figured out how to guard the Bulls' screen and roll play: Defenders are hedging and doubling Rose to the outside, forcing him to make passes over the top of the double-team, passes that are difficult to execute even without two defenders in your face. This strategy works: it forces Rose into tough positions and it forces the rest of the Bulls to hit jump shots, rather than allowing Rose to get to the rim.
The fix: Del Negro needs to let Rose run.
Vinny has one of the best transition point guards in the game and there's no reason the Bulls shouldn't be pushing the pace on every possession, Phoenix Suns-style. The Bulls are built to run: Hinrich can spell both guard positions when Salmons is tired; Joakim Noah is a worker; and Luol Deng -- along with Taj Gibson and even James Johnson -- are best when they're attacking the rim at full speed.

This wouldn't just put pressure on opposing defenses; it would give Rose the space he needs to operate at full strength. The open court is like water to Rose. Vinny needs to give in and, if we may use an unforgivable pun, water his flower.

Eamonn Brennan is a Chicago-based writer, editor and blogger. He is the editor of Yahoo! Sports's college basketball blog The Dagger and a contributor to Inside The Hall. Follow him at his personal site, eamonnbrennan.com, or on Twitter.
Copyright FREEL - NBC Local Media