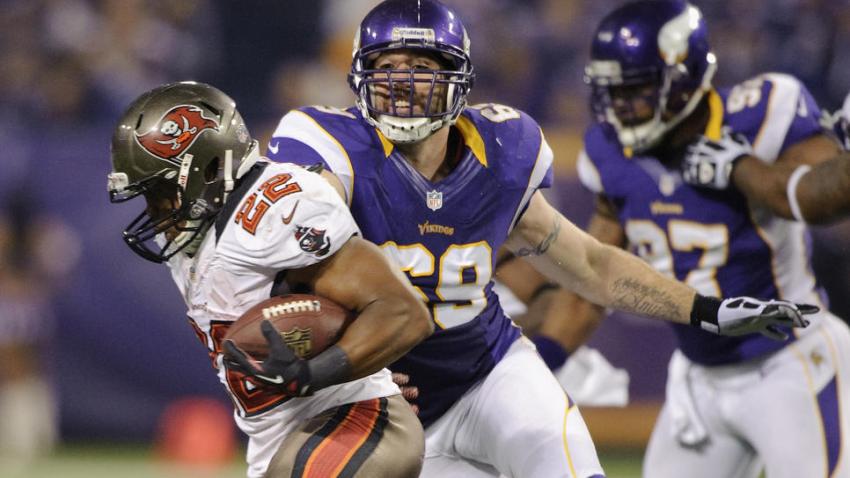 The Chicago Bears made some serious upgrades to their defense on Tuesday when the NFL free agency period opened up, but one position that they are apparently still looking into upgrading is their defensive end slot.
Bringing back Corey Wootton could still be an option for the Bears after they brought in Lamar Houston with a fresh five-year contract on Tuesday, but there is another veteran player that the team is apparently looking into, according to ESPN's Adam Schefter:
While Denver focuses on DeMarcus Ware…Vikings free-agent DE Jared Allen is talking with the Bears and Seattle Seahawks, per league source. — Adam Schefter (@AdamSchefter) March 12, 2014
Allen, who had 11.5 sacks last season with the Minnesota Vikings, is testing the free agency market for the first time. He has drawn some interest from other teams, including the Denver Broncos, but according to Schefter and other reports, the two teams that are leading the charge to bring him into the fold are the Bears and the defending Super Bowl champion Seahawks.
The Seahawks already boast a formidable defense, with Michael Bennett getting re-signed on Monday (much to the chagrin of the Bears), but adding a guy like Allen to the other side of the line would make them even scarier. With a secondary loaded with talented players like Richard Sherman, the Seahawks already make life miserable for quarterbacks, but with a guy like Allen causing teams to seriously consider which side of the line they need to add blockers to, the Seahawks could be downright deadly.
As for the Bears, they need Allen a lot worse than the Seahawks do, and so they would likely have to pay dearly for the privilege of signing him. Sure, grabbing a guy from a divisional rival can be good business AND good for revenge, but with the salary cap still posing a bit of a problem for the team despite cutting Julius Peppers yesterday, the Bears have to be careful on how they allocate their resources.
That being said, if the price is right for a guy like Allen, then it makes total sense for the Bears to at least kick the tires. They are woefully weak at the defensive end position even while adding Houston to the fold, with Peppers gone and Shea McClellin shifting back to linebacker after a disastrous season on the line of scrimmage. If they can get Allen to compliment the addition of Houston, then they will be in much better shape than they were when the 2013 season ended.
Even if they can't though, there are still other options, and the Bears could potentially be better off seeking a younger guy than the 31-year old Allen.