Over the next couple days, I thought it would be prudent to review some of the Hawks prospects in Rockford and elsewhere, and try and guess if they have a future with the big club. Today, we start with the one that Hawks fans want most to have a future, and also the one that least likely has one, Kyle Beach.
Hawks fans, including myself, have salivated over the idea of Kyle Beach for some time. The idea is a big, talented forward who can protect his teammates, crush opposing defensemen on the forecheck, blot out the sun to the goalie, and have the hands to score over 35 goals. And do all of this with a smirk on his face. That's what Beach's numbers in junior promise. In his last year at the junior level, Beach potted 52 goals in 68 games, as well as 186 penalty minutes. The Hawks haven't had a player like this since ... well, I'm told it would be Al Secord, who in the early and mid-'80s would rack up 40 goals and 200 penalty minutes. This was the idea.
The reality is in his first full season as a pro, Beach was a slow, dumb, unlearning forward who can't really fight all that well, and the organization has soured on him. The fact that Beach wasn't one of the Black Aces -- the term given to players called up from the AHL during the NHL team's playoff run to gain the experience -- has led a lot to believe that Beach is not considered a top prospect by Hawks management and could be a piece to be moved this summer. It makes sense.
From most reports, Beach couldn't shake the habit of taking moronic penalties in the attacking zone. This tends to drive coaches nuts. He also didn't have much of a defensive game, ending up with a -24 (though that's on a woeful Rockford team). And while Beach was always willing to take a fight, he got his lunch handed to him by anyone close to his size.
The physical tools are there with Beach. He does have the hands, and the size, and the desire. It's all just pointed in all the wrong directions. Beach netted 16 goals this year, while not getting top line time in Western Illinois. Six of those came on the power play, where he was camped out in front a lot. But Hawks fans, and probably management, were expecting more. Most of the things blocking Beach from becoming an NHL-er are between his ears. He has said in interviews he knows he needs to knock out the dumb penalties and concentrate on the game instead of yapping, but he hasn't done that yet. He's also going to need to improve his skating if he's ever going to contribute to a swift Hawks team, but that can be done.
If Beach isn't shipped out this summer, he will have almost no chance of making the team out of training camp, barring something on Rapture-level surprise. However, if he is here the Hawks will hope, as all their fans will, that the light finally does go on, and Beach focuses his gifts in the right ways. If he does that, the Hawks will have a true monster it tow.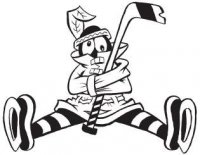 Sam Fels is the proprietor of The Committed Indian, an unofficial program for the Blackhawks. You may have seen him hocking the magazine outside the United Center at Gate 3. The program is also available for purchase online. Fels is a lifelong 'Hawks fan and he also writes for Second City Hockey .