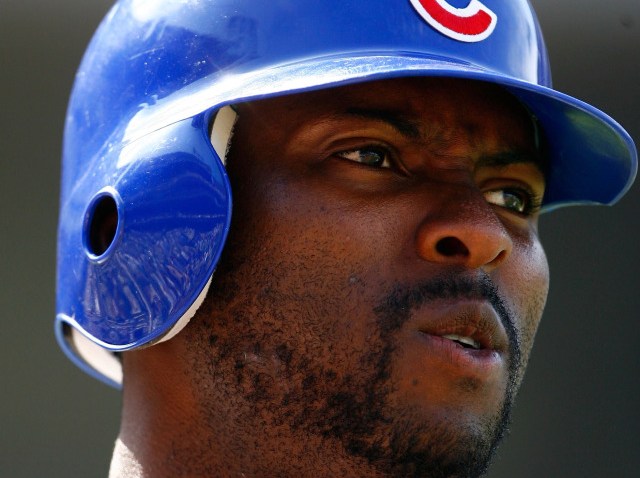 Since Milton Bradley's angry tirade against Cubs fans -- when Bradley alleged he was the victim of racist taunts in the stands in Wrigley, and knowing Wrigley, who's to argue? -- it seemed possible Bradley might be spending the last two years of his three-year Cubs contract for a different team.

Thanks to a semi-sneaky Lou Piniella quote on ESPN radio, it seems more likely than ever that Bradley has played his last game in a Cubs uniform:

"Now we try to find somebody else," Piniella said. "I know Jim [Hendry, the team GM] will work very hard at it."

That pretty much spells it out, doesn't it? The Cubs are moving on. They will look to trade Bradley -- several teams, including the Padres, Mets, Rangers and Rays -- could all be interested in Bradley's services, and that makes sense: Despite his troubles in 2009, Bradley has long been a productive player who DHs well and can get on base at a very high clip. Some smart team will sneak in this offseason and get him from the Cubs for pennies on the dollar. Whether Bradley can keep it together in his new location is any suitor's guess (and gamble).

What's important to note as the Cubs go forward, though, is that Piniella shares some measure of the blame for the Bradley mess in the first place. (In so far as it was a mess, that is. Bradley's late season production redeemed him somewhat before the eventual suspension and so on.) Piniella is the one who desperately wanted a left-handed hitter for his lineup. It was an antiquated notion in many ways, and one that should never take precedence over sheer talent and value. Bradley is a talented guy, and the Cubs had the right idea signing him, but if Cubs fans want to blame the way the situation ended on someone, Piniella should be in the equation, too.

Eamonn Brennan is a Chicago-based writer, editor and blogger. You can also read him at Yahoo! Sports, Mouthpiece Sports Blog, and Inside The Hall, or at his personal site, eamonnbrennan.com. Follow him on Twitter.
Copyright FREEL - NBC Local Media