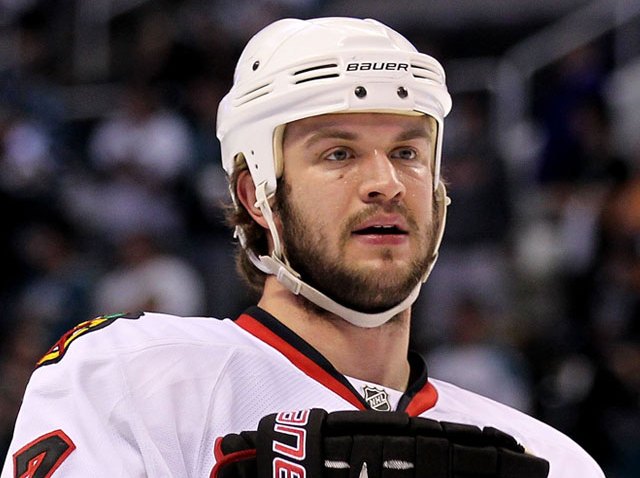 Word came down last night and this morning that Brent Seabrook is close to signing a five-year extension worth $30 million. Nice work if you can get it.
While this season has kept Hawks fans' focus squarely on the next game, occasionally we all would cast an eye to the upcoming negotiations with Seabrook and others. While one can debate the particulars, the fact that a cornerstone of the Hawks team is about to be locked down through his peak years can only be considered good news.
But it's my job to debate the particulars, leading to a very lonely life, so let's do that. The cap hit isn't settled yet, I've heard 5.5, 5.8, and a full 6 as well, so we'll have to wait and see what the exact numbers are when they are announced in the next couple days. But let's go with the 5.8 or 6 flat number. Some may think it could be a little high, and there is evidence to that, regarding the cap number. Looking around at comparables one could say that Seabrook should be closer to five. Robyn Regehr in Calgary, though not possessing near the offensive game comes in at just over 4. Jack Johnson in LA, who's much younger but not nearly as defensively polished just signed an extension for 3.5. Braydon Coburn in Philly comes in at 3.5, and he's a sort of Seabrook-lite. Dan Hamhuis signed in Vancouver for 4.5, and he was unrestricted where Seabrook would have been restricted.
However, Seabrook is a better player than all of those. Moreover, the Hawks don't really have anything coming up to replace him. While Nick Leddy is going to one day make Brian Campbell redundant (and Shawn Lalonde in Rockford might one day as well, though he's got a longer road to drive), the closest thing the Hawks have to the angry roadblock that Seabs is is Dylan Olsen, and he's a couple years away. If Niklas Hjalmarsson had taken a step forward this season instead of plateauing or at least ensconced in a sophomore haze, the Hawks could have considered sliding him up to a #2 role. But he hasn't, and now one has to think he's trade bait this summer with hopefully whoever is brought in at the deadline filling his role as Campbell's center fielder until Olsen is ready.
I was critical of Stan Bowman when he brought Kane and Toews in for extensions, as when looking around at comparable players, stats-wise, they could have possibly been locked in at lower cap numbers. But Bowman was hamstrung by both Toews's and Kane's turning down lifetime contracts, and their marketing prowess for the Hawks. If they could have come in at 5.5 per, instead of 6 as they are, that extra million may have made a huge difference this year. But it wasn't a crime, and neither is this. Seabrook might be the Hawks best passer from the blue line, and right now houses all of their nasty. Watch how he ragdolls opposing forwards in the playoffs. He brings too much to let go, and this deal will look a lot better when Nashville's Shea Weber comes in at over 7 a year, wherever that might be.
For those worried about what this does to next year's cap, don't be. The Hawks get $4 million freed up from not having to pay bonuses to Toews and Kane as they did this year. The cap is going up between 2-3 million, according to reports. Kopecky comes off the books as well, as does Marty Turco. That's at least 8 million to play with, and Seabrook's raise from $3.5 million only takes up two of that, two and a half at most. That's 5.5 at worst, with Brouwer and Crawford needing raises, and Crawford can't ask for too much unless he wins the Cup himself. Frolik could also be re-signed, but the Hawks will have some room to play with, much moreso than this past summer.
All in all, pretty good news.