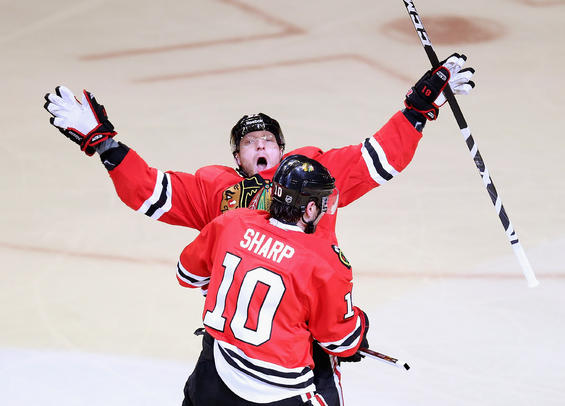 Chicago Blackhawks head coach Joel Quenneville wanted his team to put forward a better effort in their second round series with the Detroit Red Wings, and at least in Game 1, they did exactly that.

Keyed by three points by forward Patrick Sharp, the Hawks knocked off the Wings 4-1 and took a 1-0 lead in their Western Conference Semifinals series. Marian Hossa, Johnny Oduya, and Marcus Kruger added goals for the Hawks.
We'll have plenty of reaction to the game on Madhouse Enforcer, but for now, here were Wednesday's Three Stars:
Third Star: Johnny Oduya
It isn't often that a player can steal the offensive spotlight from the Blackhawks' talented blue line corps, but Oduya did exactly that with his excellent play on Wednesday night.
In addition to his plus-3 performance on the defensive side of the puck, Oduya also fired four shots on goal, and his third period goal broke the embargo that Wings goaltender Jimmy Howard had put on the net.
On the play, Oduya was stationed at the point, and Sharp and Patrick Kane drew several Red Wings defenders into a board battle, Oduya snuck in toward the slot. Sharp found him with the pass, and Oduya fired a beautiful wrister from between the dots and beat Howard to give his team the lead for good. It was a tremendous instinctive play, and without it, who knows how much longer Howard would have been able to keep the Hawks at bay.
Second Star: Patrick Sharp
Sharp had an empty net goal to seal the game for the Hawks, and managed to push the offensive tempo by firing seven shots on goal, but it was a small play in the first period that earned him the second star honors.
On Hossa's first period power play goal, Sharp showed a keen nose for the puck when he swiped the puck off of Detroit defenseman Brendan Smith's stick, and then found a wide open Jonathan Toews, who then feathered the pass to Hossa that set up the goal.
It wasn't the most spectacular play that the Hawks had on the night, but it's those kind of disciplined plays that Quenneville demands of his players, and Sharp showed great awareness on the goal.
First Star: Marian Hossa
On a night when the Blackhawks outshot Detroit 42-21, it was Hossa's performance that really set the tone.
In addition to his first period power play goal, Hossa was also an instrumental penalty killer for the Hawks, playing nearly two minutes and helping Chicago to their sixth straight perfect penalty killing game in these playoffs.
Add in his five shots in the contest, and a dialed-in Hossa was the driving force behind the team's victory.