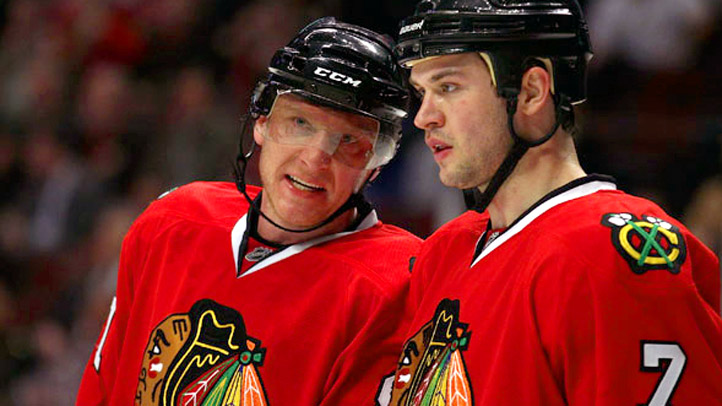 It seemed strange that the Hawks hadn't won two in a row since January, but that's a reality this year.
The first time the team notched back-to-back wins was Sunday at home and then Monday afternoon in St. Louis.
Kudos to them for finally pulling together a streak.
Has much changed? No, not really. The Hawks still haven't played a full 60 minutes in either game, and I long ago stopped thinking they could. They still made some crucial mistakes, but at least in these two games they pulled together enough to find a win. As Sergeant Kilgore told us, sometimes guts is enough.
So what's going on?
First off, the lines actually make a little sense. While almost all of the scoring talent is bunched into the top two lines, moving Michael Frolik and Troy Brouwer down to the third line at least spreads it out more. On top of that, the replacing of John Scott with Ryan Johnson and moving Tomas Kopecky to the fourth line gives the Hawks a fourth unit they can roll out there enough to give everyone a break without getting killed. In addition, Johnson can actually win a faceoff -- the only other one besides Toews -- and so much of what the Hawks want to do is predicated with starting with the puck.
The defensive pairs....well, they still don't make any sense and are basically the tears of a clown but the Hawks have gotten away with it.
Monday, Dave Bolland and Marian Hossa finally started clicking at even-strength, creating the tying goal pretty much decided that it was time. They cause the turnover at center ice and Hossa drew two defenders to him for Bolland to feel quarantined on the other side and pot it home. While Bryan Bickell is an odd choice to be on the other side of that line as he doesn't really do anything except score from the perimeter occasionally, it's working for now.
The top line simply can't be stopped.
Corey Crawford has looked shaky the past three games, but at least in the past two he's made enough saves and his defense has cleared out most of the rebounds he's been barfing up all too easily these days.
They've played an AHL-team masquerading as the Penguins and a St. Louis team that hasn't been in the same neighborhood as a clue in two seasons. This helps.
But it's four out of four points, and if the Hawks start to play well for 60 tomorrow night in Nashville, well, then two can become three and three to five and so on. Let's hope for that.