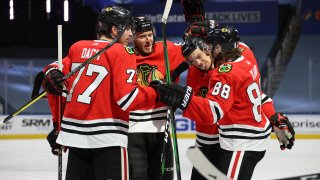 Trailing by a goal with just six minutes left in the third period, the Chicago Blackhawks got goals from Matthew Highmore and Jonathan Toews to beat the Edmonton Oilers 4-3 in Game 3 on Wednesday night.
All had appeared lost for the Blackhawks going into the third period, as the Oilers had gotten a goal from Connor McDavid late in the second period, but they somehow managed to get the job done, as Highmore and Toews each scored on deflections late in the contest to secure the victory.
The Blackhawks drew first blood in the contest when Olli Maatta, taking advantage of a Kirby Dach screen, fired a shot past Mikko Koskinen and scored his second goal of the series to put the Blackhawks ahead 1-0.
Leon Draisaitl tied the game just 28 seconds later with a goal of his own, but the Blackhawks were able to grab the lead back with just five seconds left in the period when a puck bounced off of Toews' skate and rolled into the net for a 5-on-3 tally.
The Oilers tied the game just four minutes into the second when Draisaitl took advantage of a rebound opportunity in front, lifting a puck over Crawford to knot things up. Connor McDavid then scored his fifth goal of the series with a power play tally with eight seconds remaining in the frame, giving Edmonton a 3-2 lead.
That lead would remain in place until late in the third period when Highmore deflected a shot from the point that eluded Koskinen, tying the game at 3-3.
With less than two minutes to go in the game, Toews scored his second goal of the game, with a Connor Murphy shot bouncing off of his knee and into the back of the net to give the Blackhawks a 4-3 game.
The Blackhawks managed to hold on, and they will have a chance to knock the Oilers out of postseason contention on Friday night when the puck drops on Game 4. The game will start at 5:45 p.m.
With the win, the Blackhawks are up 2-1 in the best-of-five series, and can potentially secure a trip to the Western Conference Quarterfinals with a win Friday.