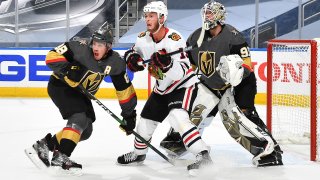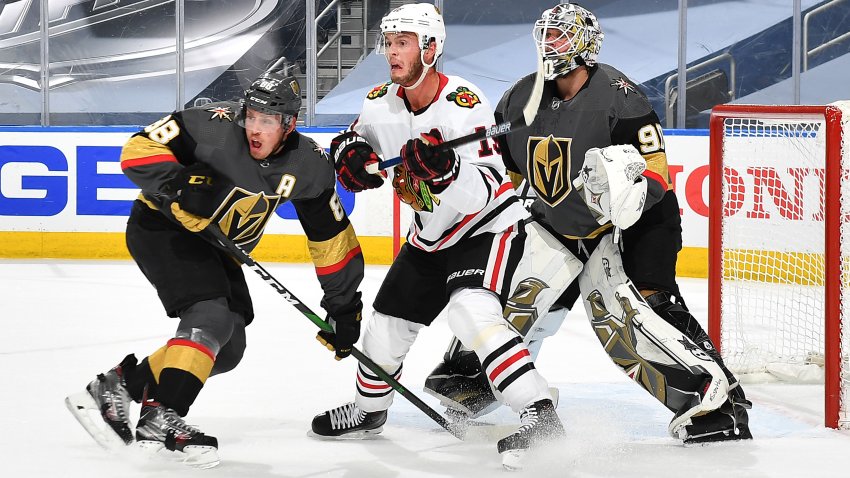 The Chicago Blackhawks hung tough against the top-seeded Vegas Golden Knights on Tuesday, but the third period belonged to the home side as Vegas picked up a Game 1 victory over the Blackhawks.
Reilly Smith scored a pair of third period goals for the Golden Knights, who have now won all four of their games in the Edmonton bubble. William Carrier and Shea Theodore also had goals for the Knights, who held serve in their first home game of the series.
David Kampf scored the lone goal of the game for the Blackhawks, as he potted a short-handed tally in the second period of the contest.
Corey Crawford had a rough game for the Blackhawks, giving up a short-side goal to Theodore in the second period and a bad rebound goal in the third, as Smith's shot him in the shoulder and then rolled into the net for the third tally of the game.
After a scoreless first period, the Golden Knights got on the board with a pair of goals in the second period. Theodore pinched in from the blue line to fire a shot past Crawford's pad on the short side for the first goal of the contest, and Carrier managed to pound home a rebound opportunity after Matthew Highmore lost an edge, giving Vegas a 2-0 lead about halfway through the game.
On a Vegas power play, the Blackhawks were able to get on the board, with Brandon Saad stripping the puck from Theodore and finding Kampf on the rush. The Blackhawks center was able to lift a wrist shot over Robin Lehner and into the back of the cage, making it a 2-1 game with nine minutes to go in the second.
That's as close as the Blackhawks could get however, as Smith scored twice in the third period to ice the game for Vegas. His goal off of Crawford's shoulder made it 3-1, and then after a fantastic pass from Jonathan Marchessault, Smith potted another one as he backhanded a shot under the crossbar to extend the Vegas lead to three goals.
The Blackhawks will hope to get back in the series in Game 2, which is set for Thursday in Edmonton.