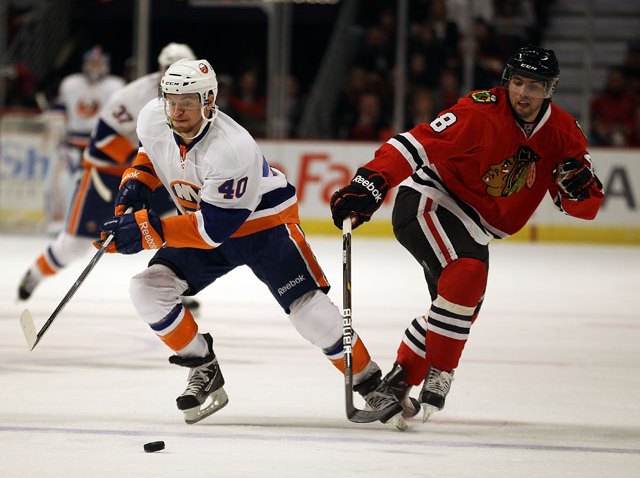 The Hawks will have to be way better tonight, because even though the Isles' record is seven games under .500, they also happen to be one of the hottest teams in the league. They've won eight of 11, including an OT victory over those pesky Avalanche (though in real life, I'd wager an avalanche is probably a bit more than pesky) in Denver.
Not only were the Isle short on talent to start this year, their injury list reads like a Dead Sea Scroll. New York will be without no less than eight regulars tonight, forcing them to harvest about half their farm team and shop in the bargain basket of the waiver wire. You won't have heard of a lot of these guys. Hell, I haven't heard of a lot of these guys and I'm rarely in contact with sunlight.
One guy most eyes will, or should be, on is John Tavares. Tavares was the #1 pick two years ago, and has been pegged as the franchise savior. He's not the dynamic force that Steven Stamkos or Patrick Kane -- recent #1's -- are, but he's starting to develop into a real thing. His all around play has jumped up this year, and he's really starting to assert himself on the boards. Most of his offensive game will take place behind the goal line, and then forcing his way in front. That's how he won the game yesterday with an OT goal borne out of outworking Colorado's Kevin Shattenkirk, then putting a move on him that left Shattenkirk needing oxygen, before beating Craig Anderson upstairs from close range with some serious hands. He's the shining light right now on Long Island.
Perma-crock goalie Rick Dipietro is hurt again, so the Isles are sporting two rookie goalies who have three NHL appearances to their name combined. The Hawks should get a look at Nathan Lawson tonight. That's about all I can tell you.
There are some people who can score here if you let them. PA Parenteau is a surprise bargain with 9 goals. Matt Moulson has 14 goals after 30 last year, and Blake Comeau can really bomb it. But some of you may know that after he notched a hat trick against us last year.
But this team is so banged up, and having played yesterday, should really be swatted aside by the Men of Four Feathers. But the Hawks have mailed in a lot of efforts against the lesser lights of the league, and against a team full of kids and one-chancers who are getting a crack at the Cup champs, they'll bring everything they've got. The Islanders are playing with a high level of zest these days, and they enjoy a winning period as well as have some people auditioning for jobs in the future. They play like tomorrow will never come, and it might not for a lot of these guys. If the Hawks don't bring it, they could very easily get bittne.