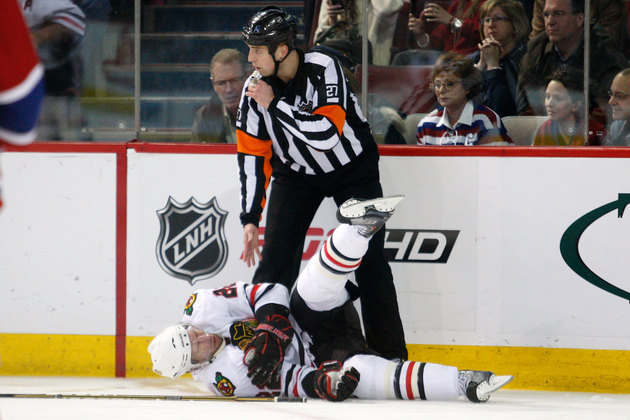 I'm sure for the neutral that was as entertaining as it gets: back and forth, passionate, with chances galore and two goalies pulling various rabbits and monkeys out of various orifices.

If you weren't emotionally invested, or perhaps even if you were on the Canadiens side, you would certainly put this in the team photo for game of the year.
But we are not those people.
And now we are left with but a point, and what feels something like a heartbreaker of a loss. If this were January or February, you'd tell yourself that sometimes an opposing goalie just beats you, especially when they are the calibre of Cary Price.

But this is April.

And because the Hawks lost in much dumber ways than just having a goalie stone them all night, now they simply can't have that happen. Dallas also won Tuesday, so only one of the magic six points gets chipped off, which means five more are needed. Which makes Wednesday night a gotta-have, and that's not just lip service.

The Hawks can't lose. It's Game 7, do-or-die, and whatever worn out cliché to express that feeling you want to toss into the kitchen sink. Because if they don't, they have to beat Detroit twice, which would make five of six on the year against Scum.

That's not happening. And if they lose in regulation Wednesday, even that might not be enough.
But in order to grab these five points that are so required, a lot would have to happen that we simply haven't seen for so long. For instance, more than two goals in a game would be nice. But it's hard to do that when simply no one is scoring.

Kane's grabbed two in three games, but that's not a lightning pace. Jonathan Toews has one in six. Hossa? Two in six. While they may dominate shifts, they need to put pucks in a place where red lights have to flash. They're not.
And that wouldn't be so bad, and we wouldn't place such a heavy burden on them, if anyone, literally anyone else, was a threat to score right now. But they aren't.

Bryan Bickell and Viktor Stalberg keep rotating from the fourth to the first line in a dosey-doe of mediocrity. Michael Frolik can't do.... well, he can't do.

I'm sure the idea of Marcus Kruger is a comforting one, but the reality we have now isn't anything. Tomas Kop....you know, don't even make me finish it.
So even though Corey Crawford was brilliant, and even though the last 30 minutes were what we wanted to see, it's not enough. And now you've lost another forward, probably for a while, which is a shame because Troy Brouwer on Tuesday was having his best game in weeks.

While he won't get a point for it, he helped create Kane's goal by being in front, something the Hawks do as often these days as Oprah turning down dessert. We'll have more on this when they annouce a call-up in the morning to replace him.
Can the Hawks get out of it? They can, but I won't tell you they will. Maybe the re-entrance of Patrick Sharp at some point is as galvanizing as when The Rock returned to WWE. But not if he's on one leg.

Maybe Toews and Hossa bust out over the next three and carry this team again for just three more games. Maybe Duncan Keith and Niklas Hjalmarsson stop playing as if they just received a colonoscopy.

But I'm not betting on any of it.