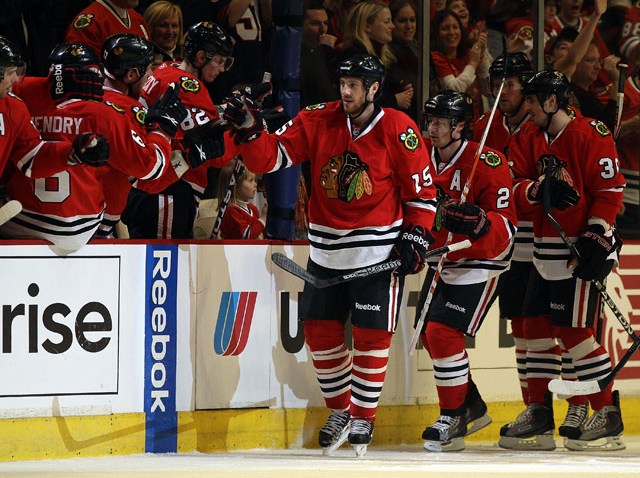 The second half of the season starts Monday night with a clash against the Pacific Division-leading Dallas Stars (and yes, we know Dallas is nowhere near the Pacific, but we didn't draw this up).

The Hawks are going to have to improve by a measurable distance to secure a playoff spot without robbing Chicago of its Maalox and Pepto Bismol supplies. They certainly can, with some small matters changing:
Simply, their best players have to be their best players. While each of Jonathan Toews, Patrick Kane, Marian Hossa, Duncan Keith, Brent Seabrook have dominated a game here or there, for the most part they haven't consistently done so. More than we thought, the bottom of the roster has done their part and more, if not displaying a complete game their predecessors did.

The Hawks will only succeed if their top-end talent, a collection of which is still the envy of most of the league, displays all it can do. Otherwise, it's icky-pants time.

Fix the penalty kill. It's been awful, and the only way it hasn't been is when the Hawks don't take penalties. Well, sometimes you take penalties, and you have to be able to see them off. The kill has been let down by myriad factors: Keith and Seabrook employing "abstract" decision-making, an inability to win a faceoff from someone other than Toews and not as much speed as last year. Again, this will markedly improve when the Hawks can count on the people who are paid to be counted on.

Let Brian Campbell take some of the heat off of Duncan Keith. Keith has struggled all year, and it'll be easier for him to find his game when he's not facing the opponent's best every second he's out there. Meanwhile, Campbell has been exemplary in all areas this year, and can help Keith out in this area. Campbell has been the No. 1 guy before in his career, and he can fill in there while Keith emerges from the Haze of Stupid he's been in.
What really has to happen, starting Monday night, is that the Hawks have to realize they're out of time. They don't get to give away points because they don't feel like showing up on a given night.

They don't have time to slot the newcomers into comfortable roles. We know what we have here.

They have to play as if their lives depend on it, because it kind of does. A win over a first-place team would be a nice start.