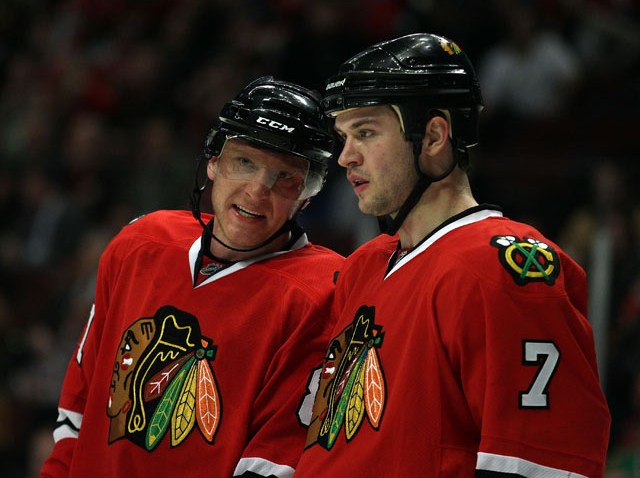 Once again, the Blackhawks will be leaderless going into Friday's game.

Though General Cornwallace had a rabid fear of leaderless armies charging into one another, the Hawks made a pretty good fist of it on Wednesday.

Let it also be noted that is my first General Cornwallace reference ever, and I'm pretty proud of it.

I will now stop pulling a lat muscle trying to pat myself on the back. Anyway, Coach Joel Quenneville is still in sick-bay, so Mike Haviland will once again have the bridge.
The Hawks will trot out the same lineup as they did against Minnesota, so it'll look like this:
Corey Crawford starts in net, after another stellar performance. Fernando Pisani and Ryan Johnson are still in a dark room trying to not focus on bright lights. These defense pairing still don't make any sense, but I'm done banging my head against a wall about them for fear of ending up in that same dark room.
The Hawks need a better effort from Patrick Sharp. In the past, when Sharp has skated with Toews and Kane, he has this annoying habit of floating through games as if he was Tiny Dancer, merely waiting for Kane to hit the tape on his stick with a pass in an area that Sharp can't miss from.

He's a far better player than that, and the Hawks and their fans deserve more from him. He should be moving his feet to cause turnovers in the defensive zone to better release the rush up ice he can cash in on. And with his speed, when he's buzzing about he creates more lanes and openings for Toews and Kane to take advantage of.
As for the rest of it, if Marian Hossa is in the same mood as he was Wednesday, he'll have a big game. The Jackets only have one competent defensive pairing at the moment and they'll probably be assigned to Toews's line.

When Hossa is bullrushing the net and laughing at your attempts to do anything about it, there are few who can stop him. It also opens so many things up for Dave Bolland -- who's passing as well as he ever has -- and Michael Frolik, who we predict will score his first Hawks goal.
This is a team right behind the Hawks, so they'll be just as desperate. But the Hawks have taken three of four from them this year, and the only one they didn't was yet another game when they thought they had better things to do than try.

There's not time for that now, and this ball needs to get rolling.