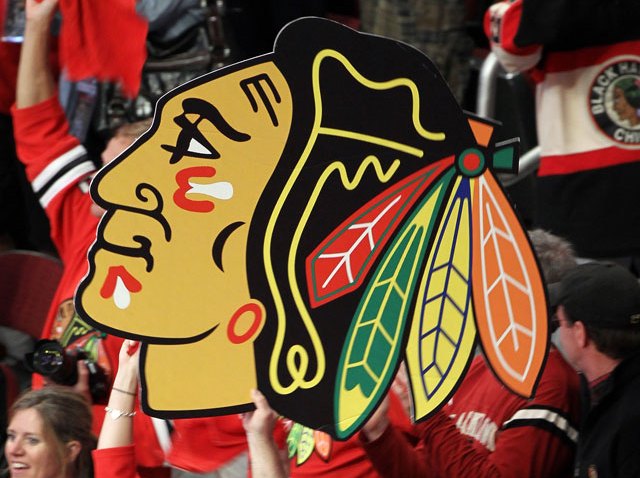 So pretty much everything I wanted to see begin tonight didn't.

Brent Seabrook and Duncan Keith were still Kabuki theater in their own zone at times. Patrick Kane only showed flashes, as did Marian Hossa. The Hawks didn't bring it for 60 minutes, or maybe even 40. They got horsed in the faceoff circle by a team not very good at it.
But they won.
And Jonathan Toews turned back into Captain Marvel, and that's certainly a start. After the Hawks somehow biffed their way to a 3-2 deficit, partially due to Nick Boynton's face, Toews took over the game. Setting up Stalberg's and Kane's goal, and then burying his one in a sweet sequence.

The game was pretty much over when Toews decided it would be, and we haven't see nearly enough of that this season.
I suppose the first game after such a long break, after having another long break right before it, would lead to rustiness and incohesiveness, which might not even be a word. But I've tried to excuse too many Hawks performances this season, and the bar is going to have to be raised several notches for Friday's game at the Conference pace-setter Vancouver.

Anyway...
-Why Nick Boynton is in the lineup is going to be one of those things I'll mutter to myself in a rubber room along with the 2008 Cubs, along with why Axl Rose destroyed the best rock band of the last 30 years.

If the goal off his face doesn't prove to Coach Joel Quenneville that at the very least the dude's karma is forever screwed, then there's no hope. Though to be fair to him, the goal Columbus' Matt Calvert scored was as much on Nick Leddy not reacting quickly enough as it was on Boynton.
-There was a time when Patrick Sharp was an excellent defensive center. That time is most certainly not upon us. Is it because he's married now? I'll start divorce proceedings if it is.
-I don't know how Keith and Seabrook ended up positive tonight on +/-, but they were still scatterbrained. But at least Seabrook was physical and Keith was joining the rush. Mighty oaks from little acorns and all that.
-The Hawks turned it off in the 3rd, and we're lucky that the Jackets are so punchless they couldn't do anything about it.
-Flickers from Marian Hossa. We'll take it as long as that light eventually comes on.
-The kill was excellent. Now do it against a real power play.
-While the first goal was bad, Marty Turco made the big saves he and the team had to have to keep them in the game, and that's all he's ever been asked.
-Jack Skille and Viktor Stalberg once again didn't crack 10 minutes, and though there was a lot of special teams play, that's strange considering they were two of the most effective forwards.
-At this point in the year, I'm supposed to settle for just the two points. But I have bigger aims for this year than merely cracking the top eight, and for those the Hawks are going to have to be a whole lot better.