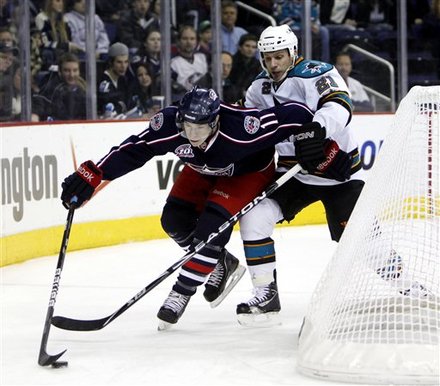 The Columbus Blue Jackets are the only team in the Western Conference to have never won a playoff game. That probably won't change this season, despite their clinging on by a fingernail to the playoff chase.

And yet, this team carries some danger.

They've won five in a row on the road, and five of seven overall. They come in having dropped a shootout to Los Angeles on Wednesday.
However, the Jackets come in Friday night with a full medical unit. Goalie Steve Mason has bronchitis and top center Derick Brassard has been felled by a hand injury (to say nothing of his misspelled first name.) Defenseman Rostislav Klesla also won't be there, nor will furious forechecker and overall pain-in-an-uncomfortable place Derek Dorsett.

Brassard is the big one here, as he was starting to show flashes of being a future No. 1 center and developing a rapport with main scoring threat Rick Nash. Mason had also put a nice little streak together after a year of floating in performance purgatory.
So the Jackets lineup will look as such:
Backup Mathieu Garon, who relieved Mason the last time these two teams got to dancing and let in three goals on four shots, will have the Jackets' cage.

Watch for Voracek. Despite being yet another who can't spell his first name right, he's on a binge right now with six points in his last five games. Another to keep an eye on is R.J. Umberger, who allows us to make all sorts of Primus, Hamburger train jokes. He's a big body, and if the Hawks continue their surfer-dude mentality of cleaning up in front of their own next, Umberger will have a field day.
But every time the Hawks have cared against these guys, they win easily. This defensive unit is pretty below par, and the Hawks should have their way with them.

They have to, because the time is now to sing their song to the wide-open spaces.