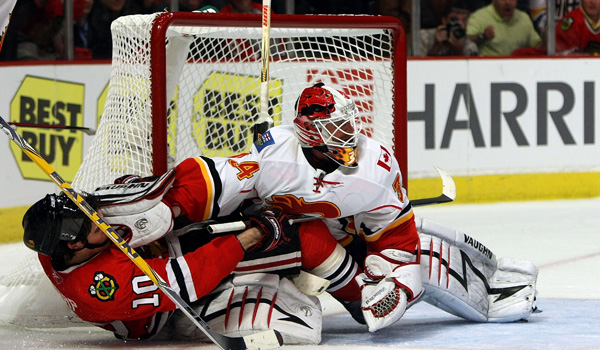 For most of this season, I was under the impression that Calgary was an unfortunate hockey team. I'm still of that opinion, but now they're an unfortunate hockey team that has gotten hot, gathering points in 12 of their last 13 games, winning eight of those.

This streak has vaulted them from the nether regions of the Western Conference that no one talks about at parties to right on the fringe of the playoff picture. It's encouraging to think that's how quickly it can happen and that's where the Hawks could be if they could put it together for 10 games. But that remains our wish.
The Flames have been led back to the Universe of Relevance by their aging duo of stars, Jarome Iginla and Mikka Kiprusoff.

Iggy is one of my favorite non-Hawks in the league, but when he started this season so abysmally I was beginning to wonder if the miles weren't catching up. Iginla has been playing a power game for 13 years now and the closure of that kind of career is generally not a slow one.

Early in the year, it seemed Iggy was content floating around the outside of the offensive zone, waiting wistfully for a pass to one time that rarely ever came (as it is with confounding lovers). Gone was the bull who would charge to the net and into defenders to create his own space.

But that guy is back. From two goals in the first 15 games, Iggy has popped in 20 in the following 37. He's clearly a threat.
Kiprusoff does this every season. He'll put on a month-long binge of reminding you that he was once a top tier goalie in the league, and then the burden of far too many starts from his head coach (and it's been like three of them at this point) cracks the poor Finn and he's brought to the rink in a bucket in March and April as the Flames fade into Bolivia, as Mike Tyson would say.

Sadly for the Hawks, he's in his hot streak time right now. carrying a .934 save-percentage the past couple weeks. He's a big part of the Flames' revival.
What Calgary does well is shield him. They give up the third least amount of shots in the league, checking in at just over 28 a game. This blue line is still a strength.

Jay Bouwmeester was a disappointment last year after his trade, but he's picked it up. Robyn Regehr has been skull-crusher for most of this decade. And Mark Giordano and Adam Pardy have seen their games really take a jump up.

They're all very sizable as well, with only Giordano being under 6' 3". But on the other hand, they're not all that mobile. To compensate, the Flames will have to slow this game down.

The neutral zone will look like Chicago streets after the blizzard, so the Hawks will have to dump the puck in and allow the Flames' d-men time to get there without faster Hawks all over them.

If the Flames try and skate with the Hawks, they'll get blown out of the building.
While there are some nice reclamation projects on the Flames, past Iginla these forwards are just a bunch of guys.

Brendan Morrison and Alex Tanguay have been excellent recently, but they're two guys who were booted out of two teams each the past two years. Olli Jokinen is the definition of a punch line.

All three of them are disciplined and won't get into a game they can't play.
These two points are an absolute must. This is a team the Hawks have to leapfrog and eventually put away. They can talk about having 30 games left, but in reality they have 20 because they don't want to be staring at the last 10 games needing a streak to get into the playoffs.

It's time to put some things together, so Friday must connect to tonight.