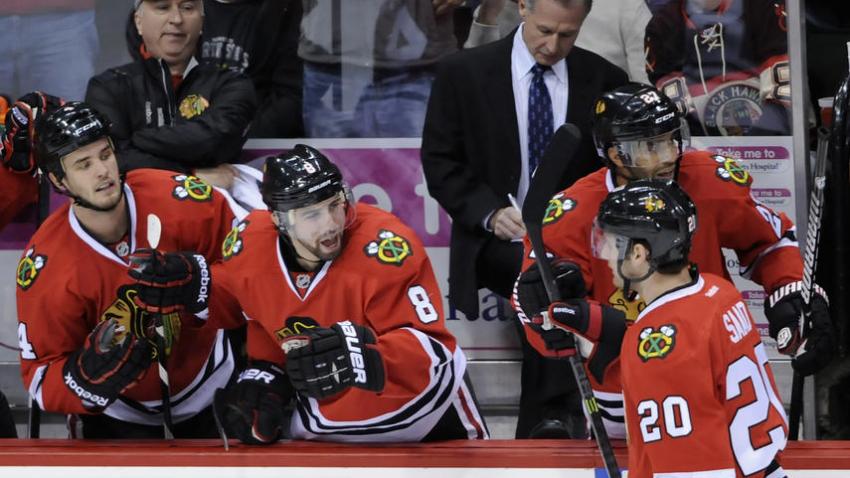 Going into Monday night's game against the Minnesota Wild, Chicago Blackhawks head coach Joel Quenneville opted to change up his lines in another attempt to get a more consistent offensive attack going. To do so, he ended up putting together a second line that featured Brandon Pirri in the center position, with Patrick Kane and Brandon Saad on the wings.
There were some concerns that the line would have difficulties on the defensive side of things, but against a very responsible Wild team, the line actually did quite well, scoring twice and picking up four assists in the Hawks' 5-1 victory, the first triumph for Chicago over a Central Division foe this season.
Especially big in that effort were the goal and assist that Saad picked up. His assist was a thing of beauty, as he dished a back-handed pass to Kane on a 2-on-1 rush after Ryan Suter committed to the near side of the ice along with Minnesota goaltender Niklas Backstrom. Here is a video of that play:
Saad wasn't done yet either. After winning a puck battle along the boards, he moved the puck down to Jonathan Toews, and then Duncan Keith found Saad with a perfect one-touch pass, and Saad fooled Backstrom completely and scored to make it 5-1 Hawks in the third period.
The line also teamed up for a really good goal in the second period too. After defenseman Nick Leddy kept the puck in the zone on a clearing attempt, he fired a shot on net that Pirri deflected in on goal. Backstrom was able to fight it off, and Kane picked the puck up behind the net. Showing some great patience as Backstrom struggled to regain his footing in the crease, Kane quickly moved to the other side of the net and fired a perfect pass to Sheldon Brookbank, who put the puck past Backstrom to give the Hawks a 2-1 lead.
When you factor in the solid job defensively that this line did against the Wild, the fears about the effectiveness of the grouping seem unfounded. After all, both Kane and Saad have been doing a great job this season defensively, aggressively attacking puck carriers in the neutral and defensive zones and also executing some excellent back-checks to disrupt potential rushes. Yes, Pirri still hasn't proven that he is capable of performing his defensive duties yet, but if Monday is any indication, he is a much better option in that regard than previously thought.

The real test of course will be to see if the group can sustain this level of push and production. Obviously they aren't going to score twice a night, but with all of the speed and puck-handling ability that these three players have, they will pose a matchup nightmare for teams already having to contend with a top line featuring Jonathan Toews, Patrick Sharp, and Marian Hossa.
That ability to dictate tempo and to get favorable matchups is one that few teams can match, and if Pirri can remain responsible defensively, and if Saad and Kane can help pick up the youngster when he falters, then this could potentially be the beginning of a very profitable line for Chicago.