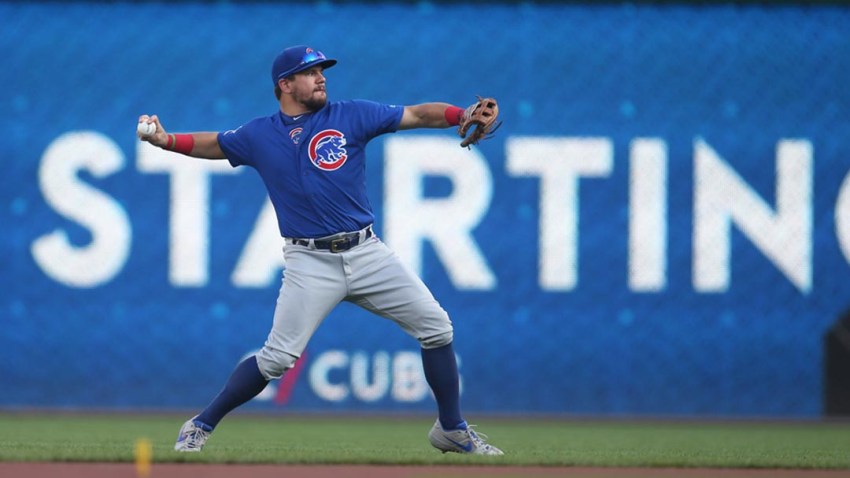 First-year manager swings and misses on Schwarber benching originally appeared on NBC Sports Chicago
Kyle Schwarber should have played the ball off the wall better, certainly more aggressively, and should have anticipated the aggressive base running by the Twins' Jake Cave.
But when Cubs manager David Ross pulled Schwarber from the nationally televised game Sunday night and replaced him in left field for the third inning with Cameron Maybin, this was no Joe Maddon-Jason Hammel replay of 2015.
It was not a bold move to signal that short-leash playoff managing has arrived. Not a signal that loafing or lack of focus won't be tolerated.
It didn't set much of an example for anything, considering the precedent, the lack of explanation and the player in the middle of it.
Consider this quote from last month: "If I want to be the type of manager that nitpicks every little thing… Javy plays hard every time I see him on the field."
That was Cubs manager David Ross when asked about Javy Baez not running out a popup in Kansas City that dropped for a single instead of a double because Baez watched it too long before running — just a double play that would have otherwise been avoided.
Ross didn't rip Schwarber after Sunday Night's 4-0 loss to the Twins. In fact, he praised him for "working his tail off" and being "one of our leaders on this team."
He also let him wear the benching that Baez didn't get and left him to explain what the manager would not.
"I'd like to keep that in-house," Ross said Sunday night, reiterating versions of the same answer for multiple followup questions — admitting only that Schwarber was not hurt. "I'll keep all that in-house on all the things involving Kyle Schwarber."
Maybe the Baez play and Schwarber play amount to apples and oranges.
The time of season certainly doesn't compare.
But if this was meant as some kind of kick in the ass for a group that has more than a few areas to tighten up before the playoffs start barely a week from now, it's hard to imagine it achieving anything close to that effect.
That's in part because of the veteran core that Ross has praised — accurately, by all indications — for the commitment to each other and the organization.
And in larger part because the player in chose to single out might be the easiest guy to pick on for such an example — the guy in the clubhouse least likely to sulk, least likely to complain about it, least likely for any manager in any setting to "lose."
In fact, Schwarber did not retreat to the clubhouse after being embarrassed.
He stayed in the dugout the rest of the game, cheering for teammates. "Probably the loudest guy in the dugout," teammate Ian Happ said.
"I don't see myself as the kind of person that's going to pout," Schwarber said. "I took a moment for myself. I'm not going to be that guy who's going to be selfish and sit there and feel bad for myself. There's still a game going on. … And [I want to] try to make an impact anywhere I can."
And afterward he even praised the job Ross has done this year as a manager and "mentor."
Clearly, Schwarber misplayed the ball in left field on that leadoff hit in the second and took the blame afterward. If he assumed Jake Cave was going to coast into second, as it appeared, it cost at least the base on after Cave slid into third just ahead of Schwarber's throw. He later scored on a two-out single for a 2-0 lead.
"I think I could have got to the ball sooner," Schwarber said. "It keeps them from going to third, and it might be a different story with that run scoring."
Maybe. Or maybe Cave moves to third on the Max Kepler's grounder to second and scored, and Josh Donaldson's single drives him in anyway.
Either way, does anybody think Schwarber's effort or attitude is a problem?
More to the point, will anybody in the clubhouse reasonably be able to apply Sunday night's example to himself? If it was meant to be an example?
If the hard-working, team-first guy can get benched for a lapse, any of us can? Maybe.
Or maybe this: What the hell?
Schwarber actually seems to make most of his mistakes when he tries too hard.
In fact, when that was suggested to Ross he agreed: "He busts it every time out there."
By the way, Schwarber is the one Cubs player this year, on Sept. 9, who wound up on second base because he ran hard on a routine pop to the second baseman in shallow right that was dropped.
That's what setting an example looks like.
Copyright RSN