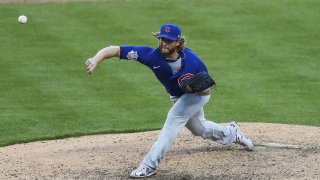 Why Craig Kimbrel didn't pitch vs. Pirates on Friday originally appeared on NBC Sports Chicago
As the Cubs bullpen worked in — and eventually out — of a jam in the ninth inning Friday, fans shared the same question.
Where is Craig Kimbrel?
"He was just down," manager David Ross said. "He was down today."
Kimbrel, the Cubs closer off to a great start this season, pitched four of the first five days this month, including back-to-back days on May 4 and 5.
But he threw no more than 18 pitches in those games, and the Cubs had Thursday off.
Is Kimbrel dealing with an injury?
"Nope," Ross said of the right-hander who's allowed just one earned run in 13 appearances this season, converting five of six save chances.
Ross said the Cubs bullpen was "a little thin" Friday. When asked if some of his relievers are dealing with nagging things, he said, "I think you answered your own question," and did not get into specifics for competitive reasons.
Whether any of those relievers include Kimbrel, Ross said he expects him to be ready on Saturday.
With Kimbrel down, Andrew Chafin, Ryan Tepera and Rex Brothers pitched the ninth and ran into trouble. Chafin, who pitched a scoreless eighth, allowed a single to Colin Moran to start the final frame.
Tepera replaced him, allowing a double, single and two runs. Brothers came on and allowed a single and hit by pitch to load the bases.
The lefty got a fly out to escape with a 3-2 Cubs win.
Copyright RSN