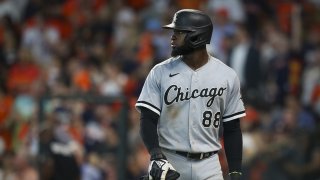 What's next for White Sox in Game 3: 'It ain't over' originally appeared on NBC Sports Chicago
HOUSTON – The intensity in Tim Anderson and Lucas Giolito's eyes, as they sat at the podium after a 9-4 loss on Friday, was almost antithetical to the circumstances.
"It ain't over," Anderson said after the White Sox fell behind 2-0 to the Astros in the American League Division Series. "We've still got a shot."
The White Sox return to Chicago facing possible elimination. Every game of the best-of-five series, starting with Game 3 on Sunday, is must-win for the South Siders. But their message after Friday's loss was clear.
"We know what we've got to do, and we've got to take care of business," Anderson said. "We have to keep fighting and keep pushing.
"And we competed. We competed at ahigh level. We know things will get better. It's good to head back home, for sure."
 Sunday will be the White Sox' first home playoff game with fans in the stands since 2008. And they've been better at home than on the road all year, posting a 53-28 record at Guaranteed Rate Field.
"I really think the fans have embraced this team," White Sox manager Tony La Russa said recently. "I think it's really important and I think our team has earned that. The reason I like it so much is when a club feels that, then you don't want to let people down. You reach a little deeper and try a little harder. It's all good."
Excitement over playing in front of home fans began building even before the White Sox headed to Houston to open the ALDS. White Sox utility man Leury García felt it when he tried to leg out an inside-the-park home run during the final regular season homestand. He was thrown out at the plate, but the White Sox faithful gave him a standing ovation as he exited the field with a knowing smile on his face.
"They're going to be loud," García said. "… I think the playoffs are going to be great."
The White Sox aren't just drawing their optimism from their return home, either, or even their division-winning regular season.
At face value, lopsided losses in Game 1 and Game 2 aren't exactly confidence-inspiring. The Astros have outscored the White Sox 15-5 so far in the ALDS. But Anderson and Giolito weren't focused on that number after the game.
"We pay attention to all the hits," Anderson said.
The White Sox recorded 11 of those on Friday, one more than the Astros.
"I would say specifically the first inning today," Giolito said.
The White Sox scored first, with a pair of hits, a hit by pitch, and a fielder's choice. Then, in the bottom half of the inning, Giolito struck out the side.
"If we stay focused and stay positive and stay confident, then we can pile on innings like that," Giolito continues. "So, that's the plan going forward."
That's the plan as they try to avoid a three-game sweep on Sunday.
"We know what we can do, and there's no pressure," Anderson said. "No moment is too big."
Copyright RSN