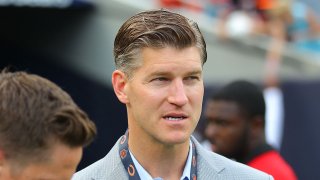 Under Center Podcast: Could '21 Bears draft class be greatest in Bears history? originally appeared on NBC Sports Chicago
You saw the headline and immediately made a face. I saw it through the screen. But it isn't out of the question that Ryan Pace could have just drafted multiple Hall of Famers. Ken Davis and Eric Strobel are joined by NBCS Bears draft enthusiast Glynn Morgan as they dive deep into the 2021 draft class and the potential that this could very well be one of the franchise's best drafts ever if things go well. Ryan Pace also joins the podcast at the end and you don't want to miss it.
(2:50) - Instant reactions to the moment Justin Fields was drafted and what it meant for Bears fans(13:00) - Did anybody envision the Bears drafting this well going into the draft?(23:50) - Could this be the Bears' greatest modern-era draft class ever?(37:20) - Did Ryan Pace change his career arc with this draft?(40:15) - Justin Fields or Russell Wilson: in hindsight, who do you want as a Bear right now?(54:08) - Fake Ryan Pace joins the podcast
Listen here.
Copyright RSN