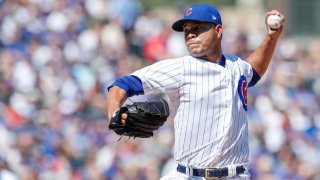 On this edition of the SportsTalk Live Podcast, David Kaplan is joined by Anthony Herron, David Haugh and Jason Lieser. The guys discuss a freak injury to José Quintana and the effect it will have on the Cubs starting rotation.
The NFL eliminates two preseason games; what kind of impact will that have on the Bears QB competition? Cole Kmet is drawing comparisons to Rob Gronkowski, what are some realistic expectations for the Bears rookie tight end.
Plus, Eddie Olczyk joins Kap to talk some hockey. What will life be like playing in a hub city and how can teams balance their long-term and short-term goals?
Click to download the MyTeams App for the latest Cubs news and analysis.
Listen here or below.
Sports Talk Live Podcast
Subscribe:
SportsTalk Live Podcast: Jose Quintana injures his hand in freak accident originally appeared on NBC Sports Chicago
Copyright RSN