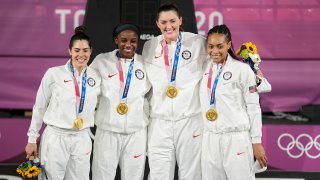 Dolson helps USA win gold in 3x3 basketball's Olympic debut originally appeared on NBC Sports Chicago
The USA women's 3x3 basketball team made history early Wednesday morning by winning gold in the competition's Olympics debut.
And Stefanie Dolson of the Chicago Sky was at the center of the action.
Dolson, who posted gaudy stat-lines throughout USA's near-perfect run, notched 7 points and 9 rebounds in the team's 18-15 win over the Russian Olympic Committee in the gold medal match.
"We fought really hard to get here and to win this game. We've been through a lot," Dolson said in her postgame interview. "So I'm just really, really happy."
Joining Dolson on the gold-medal stand were fellow WNBA players in Kelsey Plum (Las Vegas Aces), Allisha Gray (Dallas Wings) and Jackie Young (Aces).
That fearsome foursome won their first six games before a brief blip against Japan in the final contest of pool play. But an 18-16 win over France in the semifinals and Wednesday's victory over ROC followed, and glory was bestowed.
The Tokyo Games marked the first for 3x3 basketball. If the result sparks an American dynasty, remember Dolson and Co. as the ones who first broke ground.
"It's always special to be the first of anything," Dolson said. "But basketball runs deep in the USA blood, so for us to have this accomplishment as well and hopefully start something is really special."
Copyright RSN