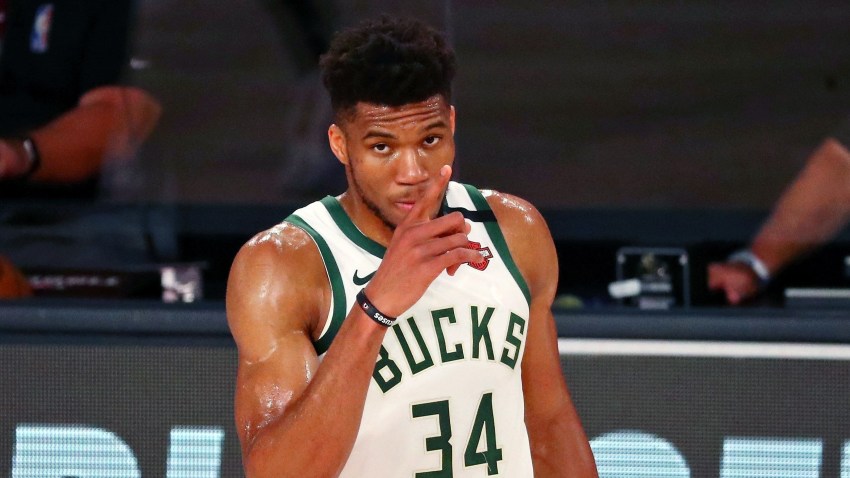 Report: Giannis Antetokounmpo wins second straight MVP originally appeared on NBC Sports Chicago
It's not quite official yet, but what has long been in the tea leaves has now been reported by ESPN's Adrian Wojnarowski: Giannis Antetokounmpo is your 2020 NBA Most Valuable Player. 
At age 25, it's Antetokounmpo's second consecutive MVP. He's the 12th player in league history to achieve that feat, and the first since Hakeem Olajuwon (1994) to win both MVP and Defensive Player of the Year in the same season. Only Giannis, Olajuwon and Michael Jordan (1988) have done the latter.
Of course, when the honors are officially announced on TNT at 1 p.m. CT Friday, it won't come with as much fanfare as once expected. Not only is the ceremony likely to be done remotely amid the COVID-19 pandemic, but Antetokounmpo's (regular-season) league-best Milwaukee Bucks bowed out of the playoffs in five games to the Miami Heat in the second round earlier this month. Antetokounmpo missed the last game-and-a-half of that series with an ankle injury.
Still, this season was one to remember for Milwaukee. Before the league paused play in March, the Bucks were on a near-67-win 82-game pace, and blitzing opponents by an historic 10.7 points per 100 possessions.
Antetokounmpo was at the heart of that success, averaging 29.5 points, 13.6 rebounds, 5.6 assists, and a steal and a block per game, all while playing only 30.4 minutes per night in 2019-20 — the last point a testament to the Bucks' ability to run teams off the floor early and often. He anchored just the fifth team of all time to finish a regular-season with a sub-103 point per 100 possessions defensive rating, according to Basketball Reference.
Before he hits his athletic prime, Antetokounmpo is already entering the upper echelon of all-time achievement. But rumor and speculation are set to define his offseason, the last before possibly hitting unrestricted free agency in 2021. 
As a veteran entering his eighth year of service, and with the necessary accolades under his belt, Antetokounmpo will be eligible to receive a supermax extension (with a salary beginning at 35 percent of the salary cap, plus eight percent annual raises) from the Bucks whenever the 2020 offseason begins. Milwaukee plans to extend the offer as soon as they can, per The Athletic's Shams Charania.
Will Antetokounmpo accept it? Could he reverse his current, publicly-stated course and try to force a trade? Or will recent reported talks with Bucks owner Marc Lasry foretell a rapid retool for the Bucks, and a vault towards a title?
Time will tell. For now, our best course, as media and fans alike, is to appreciate the awesomeness of Giannis' exploits as they occur. His pantheon trajectory continues.
Copyright RSN