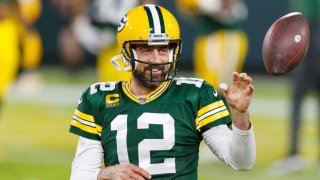 Rodgers laughs off Olin Kreutz' threat to punch face originally appeared on NBC Sports Chicago
Green Bay Packers quarterback Aaron Rodgers yelled out some horrible words to Chicago Bears fans at Soldier Field after scoring a touchdown in Sunday's 24-14 loss.
"I've owned you all my f**king life. I own you. I still own you. I still own you," Rodgers said after giving the Packers a 10-point lead.
Former Bears center Olin Kreutz responded Monday on 670 the Score's Mully and Haugh Show saying that he'd like to punch Rodgers in the face.
"When you see that, that's your first reaction, right?," Kreutz said. "I don't care if you're right. I don't care what his excuse is, that just is your first reaction. To me, that's a lame excuse.
"We all know this is the kind of guy. You're gonna get competitive and that's the way you feel. You have won a lot of games at Soldier Field. Just because you're right doesn't make you right for doing it."
Rodgers responded to Kreutz' threat in a casual way Tuesday on the Pat McAfee Show.
"Are we getting that soft as a society that we can't have a back and forth now?" Rodgers said after mentioning he has respect for Kreutz. "Somebody can pay for a ticket and say whatever the hell they want, which I think they should be able to, that's fine, but the one time you say something back to them, that gets caught on hot mic... now it's that I've disrespected an entire city and organization and my own organization."
Rodgers has beaten Chicago 22 times since 2008. Green Bay has won 10 of the last 11 at Soldier Field. Kreutz agreed with rookie quarterback Justin Fields' answer to the taunt in the postgame press conference.
"There should be a little edge after this after awhile," Kreutz said. "After awhile you get sick of getting beat up and it's been a long time here."
Copyright RSN